Iran cuts oil exports to Europe, announces nuclear advances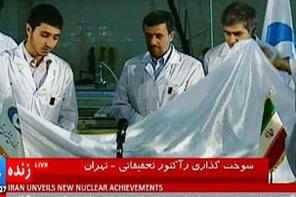 In a new show of defiance against tightened sanctions, Iran on Wednesday cut oil exports to six European countries and announced advances in its nuclear fuel programs.
Responding to European Union sanctions on Iran's banking and energy sectors, including a boycott of new oil contracts with Iran, the government said it would no longer export oil to Italy, France, Spain, the Netherlands, Greece and Portugal, the official Press TV reported. The announcement helped drive the price of crude to nearly $102 a barrel Wednesday, the Associated Press reported. Europe accounts for about 18 percent of Iran's crude exports, with Greece, Italy and Spain among the main buyers, AP said.
The cutoff was announced after state media reported that Iran has started loading fuel rods into an aging nuclear reactor used to make medical isotopes and was set to formally declare that an underground bunker complex for uranium enrichment is now fully operational.
President Mahmoud Ahmadinejad was unveiling a total of three nuclear projects on Wednesday in a ceremony in Tehran being shown live on state television, the Islamic Republic News Agency reported. The third project is a line of new carbon fiber centrifuges, which state television said have more output and enrich uranium faster than older centrifuges.
The developments had been previously announced or alluded to by Iranian officials, though with less fanfare than was on display during Wednesday's television broadcast, which featured Ahmadinejad in a white lab coat and portraits of Iran's recently slain nuclear scientists on prominent display.
State television said each of the projects would adhere to Iran's nuclear slogan: "nuclear energy for all, nuclear weapons for none."
But their unveiling will undoubtedly add to the significant build-up of tension between Iran and the United States, Israel and many Western nations over concerns that Iran is intent on developing nuclear weapons.
The war of words between Iran and Israel has grown louder every day this week, the result of a bombing in New Delhi and two other incidents involving explosives in Thailand and the former Soviet republic of Georgia. Israel has accused Iran in each of the incidents. Iran, in turn, denies responsibility and blames Israel for the assassinations of several scientists who have worked in Iran's nuclear program over the years.
In a televised appearance before Wednesday's scheduled announcement, Ahmadinejad appeared to be pressing buttons on electronic switchboards in a laboratory. A presenter said the president was initiating the loading of fuel rods into the 43-year-old, U.S.-designed Tehran research reactor.
The announcement about the underground bunker involves the Fordow enrichment site, near the central city of Qom, which Iran says has become fully operational. Iran says that it wants to secure parts of its enrichment activities at Fordow so that its nuclear program can survive a military airstrike, which Israel has openly threatened.
Israel and its Western allies charge that the moving of centrifuges to a mountain site said to be impregnable by bunker-busting bombs is a sign that Iran is trying to hide parts of its nuclear program.
The International Atomic Energy Agency — the U.N. watchdog that monitors all known Iranian nuclear activities, including those at the Fordow bunker site — confirmed last month that Iran had started enriching uranium there.
The head of Iran's Atomic Energy Organization, Fereydoun Abbasi, said in January that the cascades of centrifuges in Fordow and at Iran's main enrichment facility in Natanz are enriching uranium up to 20 percent — not enough to make a nuclear weapon, but enough to power up the medical research reactor.
High-ranking officials from the IAEA are scheduled to visit Iran on Tuesday for a second round of talks, possibly signaling that Iran is ready to provide more transparency on the intentions of its nuclear program. Such transparency is a key demand by the United Nations in recent resolutions against Iran.
WP
Photo : Iran says it has begun loading domestically made nuclear fuel rods into its Tehran research reactor. The official IRNA news agency said Pres. Mahmoud Ahmadinejad inserted the first Iranian-made nuclear fuel rod into the reactor in north Tehran.