'Hellish' prison fire in Honduras leaves 272 dead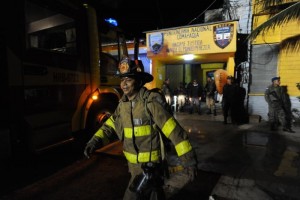 TEGUCIGALPA, Honduras — Trapped inmates screamed from their cells as a fire swept through a Honduran prison, killing at least 272 inmates, authorities said Wednesday.
The fire broke out Tuesday night at a prison in Comayagua, a town 90 miles north of the Central American country's capital, Tegucigalpa. The prison holds about 800 inmates.
Lucy Marder, chief of forensic medicine for the prosecutors' office, gave the death count to reporters in a news conference.
Comayagua fire department spokesman Josue Garcia described the blaze as "hellish," saying he saw "horrific" scenes while trying to put out the fire, saying inmates rioted in attempts to escape.
He said "some 100 prisoners were burned to death or suffocated in their cells."
"We couldn't get them out because we didn't have the keys and couldn't find the guards who had them," Garcia said.
Radio reports from Comayagua said dozens of prisoners were burned beyond recognition and the prison was destroyed by the flames.
Officials are investigating whether the fire was triggered by rioting prisoners or by an electrical short-circuit, said Danilo Orellana, head of the national prison system.
It was feared that many inmates escaped during the fire, said Hector Ivan Mejia, spokesman for the security ministry.
Hundreds of relatives rushed to Santa Teresa Hospital in Comayagua state to find out the fate of their loved ones, said Leonel Silva, fire chief in Comayagua.
The hospital treated about 40 inmates with serious burns and another 40 were sent by ambulance to Hospital Escuela in Tegucigalpa.
President Porfirio Lobo declared an emergency in July 2010 in nine of the 24 prisons in Honduras. His security minister at the time called the prisons "universities of crime" that had been overwhelmed by overcrowding.
fox news
Photo : Firemen enter the National Prison of Comayagua in Honduras where a fire broke out killing over 200 inmates.