Syrian National Council to pick a new leader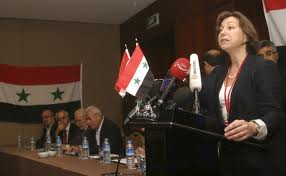 The Syrian National Council, the main opposition group against President Bashar al-Assad's regime, said it will meet Wednesday in Doha to choose a new leader or extend the term of current head Burhan Ghalioun.
"We are meeting tomorrow in Doha to choose a president. There will be several candidates and we want to take an independent decision, without external interference," SNC spokeswoman Basma Kodmani told AFP by telephone from Doha.
She said the group wanted to make a choice based on who would do the best job and not on "denominational etiquette."
Kodmani said the council's rules require it to choose its leader every three months. "In general there is a rotation, but there can be exceptions," she said.
According to several sources within the SNC, three candidates have emerged for the leadership: Ghalioun, the leader since the SNC's founding last October, Kodmani and George Sabra, a long-time dissident.
The SNC is hoping to win recognition abroad as Syria's legitimate authority amid an anti-regime uprising that has seen more than 6,000 people killed since Assad's forces began their brutal crackdown on protesters in March.
KT