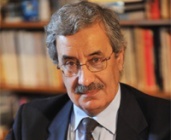 Labor Minister Charbel Nahhas on Saturday said that he "will not sign the transportation allowance decree even if all the 29 ministers voted against him , not only the two-thirds of the cabinet."
"Whoever is able to oust me then let him do so," Nahhas told New TV.
Nahhas represents the Change and Reform bloc which is led by MP Michel Aoun in the cabinet
Nahhas' statement comes after New TV reported on Friday that President Michel Suleiman said that "measures will be taken against Nahhas if he refuses to sign off on the transportation allowance decree. Either he will be fired [if] two-thirds of the cabinet [vote for that] or he will be assigned to head another ministry."
MP Ibrahim Kanaan , another member of the Change and Reform bloc criticized Suleiman's statements about Nahhas during an interview with OTV calling it "unacceptable and unconstitutional "
The labor minister has repeatedly said that he refuses to sign the decree on transportation allowances, which was agreed upon in Baabda in December between the Economic Committees and the General Workers Union, because it is "illegal."
According to observers Nahhas' stance will lead to escalation of the war between Aoun and Suleiman
This error message is only visible to WordPress admins
Error: No connected account.
Please go to the Instagram Feed settings page to connect an account.