Turkey and Iran diverge over Syria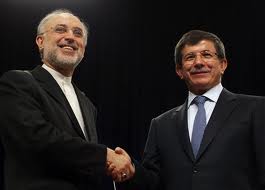 Turkey and Iran, regional heavyweights and heirs to imperial pasts, expanded trade in the past decade and papered over their traditional rivalry with diplomacy and rhetoric. Now these neighbors have staked out opposing positions in Syria, where outside players seek to sway an outcome to the bloodshed that could, in turn, alter power balances in the Middle East.
Iranian-Turkish tension could grow if regional efforts to end the violence intensify as expected after Russia and China vetoed a U.N. resolution calling for the ouster of Syrian President Bashar Assad. Ankara wants him to leave, while Tehran supports him. At the same time, they want to preserve warm ties that mask fundamentally different tactics and visions.
Turkey's willingness to clash over Syria is likely to be tempered by reliance on Iran for one-third of its oil supplies, as well as natural gas, that have helped to power its impressive economic engine. The Turks have also sought to make mediation a centerpiece of foreign policy, and that includes hopes for a diplomatic solution to the dispute over Iran's nuclear program.
Turkey, NATO's biggest Muslim member, hosts the Syrian opposition and has compared Assad, a former ally, to Slobodan Milosevic, the ousted Serbian leader whose war crimes trial was interrupted by his death. Turkey's foreign minister, Ahmet Davutoglu, is in the United States this week to coordinate efforts to isolate the Syrian regime.
Even before the protests in Syria, Turkish economic investments and other involvement there countered Iranian influence, said Savas Genc, an associate professor of international relations at Istanbul's Fatih University. Now with the region in turmoil, the two sides will struggle to maintain their "constrained friendship," he wrote in an email.
"The competition between Iran and Turkey is going to be much harder than before," Genc said.
Iran and Syria have remained staunch friends, united in hostility toward the United States and Israel, and support for Hezbollah militants in Lebanon, as well as the Hamas group in Gaza. On Wednesday, an Iranian official said in Damascus that Iran strongly supports the Syrian government, and rejects killing by any side as well as "foreign interference" that he alleged was organized by the United States and Israel.
Hossein Amir-Abdollahiyan, Iran's deputy foreign minister for Middle East and African affairs, dismissed allegations that members of Iran's Revolutionary Guard force were fighting alongside Syrian troops.
"Iran is itself committed not to interfere in Syria's affairs, and is at the same time, rendering political, moral and economic support to Syria," he said.
Some Turkish officials have downplayed hints of discord with Iran, but Bulent Arinc, Turkey's deputy foreign minister, exposed the frustration.
In a meeting with ruling party members last weekend, Arinc accused Iran, a theocracy born of the 1979 Islamic Revolution, of betraying religious principles in what he described as its silence on Syria's attempts to crush the uprising.
"Oh, the Islamic Republic of Iran! You carry the word 'Islamic' in your name, and I don't know how worthy you are (of that name), but did you utter a single sentence about the last two days' events in Syria?" he said.
The comment, cited by Turkey's Anadolu news agency, coincided with a surge in attacks by Syrian forces on the city of Homs. Arinc leveled similar charges against Iraq and Lebanon, and said sarcastically: "What joy that only Turkey felt this pain."
Turkey has deviated from Western positions, notably in its recent split with former ally Israel, and in opposing sanctions against Iran over suspicions that it is developing nuclear weapons, a charge that the Iranians deny. Trade between Iran and Turkey reached $15 billion last year, and officials on both sides have said they are aiming for twice that volume by 2015.
Yet maneuvers over Syria threaten to develop into a proxy contest for clout in a region convulsed since last year by uprisings against authoritarian regimes.
"Even though Turkey has good relations with Iran, it's obviously contending for greater influence within the region," said Julie Taylor, a political scientist with the RAND Corporation, a U.S.-based research center. "And if there was a change of the Syrian government, you would have Iran's influence in the region diminished."
Another RAND expert, Fred Wehrey, said Turkey had "sort of thrown up its hands" after its efforts to persuade Assad to reform failed, and that increased economic pressure on Syria was likely on the agenda during Davutoglu's trip to Washington. He said options for Turkey included the creation of a "liberated zone" in northern Syria and aid to the Syrian opposition, as well as an alliance with Saudi Arabia and other Gulf states to squeeze the Syrian regime.
"In the wake of the 'Arab Spring,' we're seeing very interesting bedfellows emerge. Much of this, I think, stems from the shared antipathy of Assad," Wehrey said. He and Taylor spoke to journalists in a conference call on Wednesday.
The danger, analysts believe, is that Iran could counter any aid to Syrian army defectors by resupplying Syrian forces, thereby escalating the conflict, and a Sunni Muslim-dominated alliance between Turkey and Gulf nations could stir sectarian tensions. Iran is Shiite-led, and Assad belongs to Syria's minority Alawites, a Shiite offshoot sect that has stood firmly by him.
Ties between Iran and Turkey were already showing cracks, partly over Turkey's decision to host a NATO defense shield radar that would warn of any Iranian ballistic missiles.
Hasan Ozturk, research coordinator at the Wise Men Center for Strategic Studies in Istanbul, said Turkey, initially optimistic, felt let down by setbacks in joint projects involving oil exploration and mobile communications, and might slow its outreach to Iran.
Similarly, Ali Engin Oba, a retired Turkish diplomat, said Turkey was a "little bit fed up" with Iranian policies that hurt Turkey's efforts to promote regional cooperation and create "a lot of trouble for us with regard to our policy with the United States and also Europe."
Still, the two countries work to stay cordial. This week, Iran said 11 Iranian pilgrims abducted in Syria had been freed with the help of "friendly and influential" countries, and Turkey confirmed it had secured their release through contacts.
"Sometimes, there are different comments on Turkish-Iranian relations, but we have never lost contact on humanitarian issues," Davutoglu, the Turkish foreign minister, said on Turkey's NTV television.
sfgate / AP