Aoun: 'I refuse to be portrayed as the devil '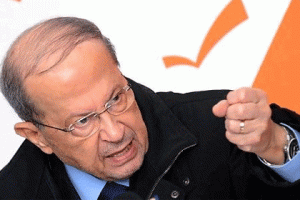 Free Patriotic Movement ( FPM) leader MP Michel Aoun told reporters after the Change and Reform bloc weekly meeting that he refuses to be portrayed as the devil .
He was responding to claims that cabinet sessions have been suspended in order to avoid renewing the Special Tribunal for Lebanon ( STL ) cooperation protocol.
He accused the president and prime minister of banding together against him.
He also accused the president of "suspending the cabinet sessions in order to acquire a new minister and therefore gain a blocking minority in government. "
He also accused the president of taking sides in the administrative appointments
"The Cabinet is responsible for the state appointments. We wanted the president to play the role of referee between the rival political camps, but he has instead decided to take sides in the dispute." Aoun said
He rejected accusations that he is not respecting the president.
He said it doesn't matter to him if the government remains or if it is toppled.
He said that President Michel Suleiman has violated the constitution and PM Najib Mikati should call cabinet into session according to article 62 of the constitution.
Aoun blamed the Ministry of Economy for the diesel scandal even though the issue falls under the minister of energy Gibran Bassil.
" Who are the distributors of diesel fuel? What is the Ministry of Economy's role in safeguarding the rights of consumers?"
The head of the Court of Audit Judge Aouni Ramadan said in remarks published late January that 101 million liters of red diesel were sold to merchants the night before government subsidies on the fuel were discontinued.This is more than 11 times the number revealed by Bassil.
The subsidy that was to be discontinued on January 19 was 3000 LL ( $2.00) per 20 liters or 10 cents per liter . This means that that the companies that bought the product made more than 10 million dollars profit at the expense of public funds .
Commenting on the recall of ambassadors from Syria Aoun said : "They were working against Syrian President Assad and now he is relieved of them. "
The United States yesterday closed its embassy in Syria and recalled its ambassador . Today all the Gulf Cooperation Council (GCC) states also closed their embassies in Syria , recalled their ambassadors and expelled the Syrian diplomats