Sarkozy to discuss 'Syrian scandal' with Russia's Medvedev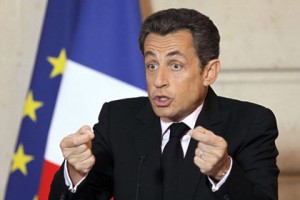 French President Nicolas Sarkozy said on Monday he would speak with Russian President Dmitry Medvedev later in the day to discuss the situation in Syria, which he described as a "scandal."
Sarkozy said on Saturday Paris was consulting with Arab and European countries to create a Syrian contact group to find a solution to the crisis after Russia and China vetoed a resolution at the U.N. Security Council.
"France and Germany will not abandon the Syrian people," Sarkozy said after a Franco-German summit in Paris with German Chancellor Angela Merkel.
"What's happening is a scandal. We will not accept that the international community remains blocked," he said, adding that Prime Minister Francois Fillon would also speak to Russian Prime Minister Vladmir Putin.
CT