Up to 500,000 may need food aid in Sudan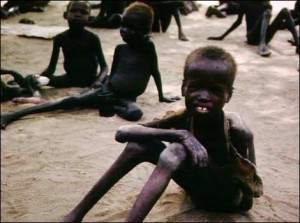 The World Food Program estimates that as many as a half million people could be forced to flee Sudan if the government in Khartoum does not allow humanitarian aid into the country, while a top US official says a humanitarian crisis is looming.
World Food Program deputy executive director Ramiro Lopes da Silva said WFP is in talks with the government in Khartoum to allow its aid workers into the states of Blue Nile and South Kordofan, which lie on the border with South Sudan. An estimated 80,000 people have fled armed rebellion and hunger in the two states and are now in South Sudan.
Sudan is battling the Sudan People's Liberation Movement-North, a branch of a guerrilla movement which has fought various regimes in Khartoum for decades. SPLM-North was once part of South Sudan's ruling party during a long running civil war between Sudan's north and south.
South Sudan became the world's newest country in July last year. Citing security concerns, Khartoum has refused to allow humanitarian aid agencies into the region.
US Deputy Secretary of State William Burns said on Monday that aid groups must be allowed in to Blue Nile and South Kordofan to avert a humanitarian crisis. He said it's extremely important that humanitarian concerns be addressed.
Lopes said Khartoum is willing to allow humanitarian access to the two states "under a certain set of conditions which we have not accepted". He said Khartoum would not allow Sudanese citizens to be involved in the operations.
Da Silva said the WFP is planning for a "worst-case scenario" to assist anywhere from 300,000 to 500,000 refugees in South Sudan should the talks fail.
The main catalyst of the potential influx is a deepening food crisis spurred by erratic rains in Sudan and instability due to the violence.
But according to WFP, things are not much better in South Sudan. In addition to the refugees along the border, an estimated 120,000 people have been affected by recent tribal violence in the volatile state of Jonglei.
In the face of these challenges, WFP estimates that the country's cereal deficit will be at least 400,000 tonnes in 2012.
WFP also estimates that about 2.7 million people – around 30 per cent of South Sudan – will need food aid this year. That estimate does not include refugees that are continuing to flee from Sudan. About 1000 people a day are crossing into South Sudan, he said.
Da Silva said the assistance will cost an estimated $US250 million, of which around $US90 million has already been provided. But Da Silva said the lack of roads throughout the country and the coming rainy season mean WFP will not be able to provide aid for the rest of the year if their operations are not fully funded by May.
AP