'Executed' corpses dumped in restive Syrian city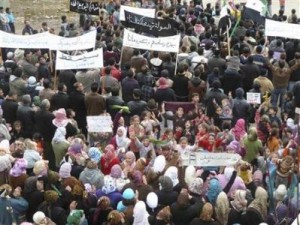 The bodies of 17 men previously held by Syrian security forces have been found in the city of Hama, activists said on Saturday, victims of a deadly struggle between President Bashar Assad and those determined to topple him.
Turkey was due to meet Gulf Arab states later in the day to reinforce support for an Arab call for Assad to quit. The Arab League and Western countries are pushing for a UN Security Council resolution on Syria, resisted by Assad's ally Russia.
Elsewhere in Syria, security forces firing mortars at the northeastern town of Quwaira killed an infant, activists said.
An oil pipeline was also set ablaze in the town at dawn, although it was not immediately clear if this was the work of saboteurs or the result of firing by security forces. The pipeline supplies crude oil to the Banias refinery.
The Syrian Observatory for Human Rights said troops were battling rebels in the central town of Rastan and that security forces had killed a man in the southern province of Daraa and another at a checkpoint in Harasta, near Damascus.
Activists also reporting fighting between armored forces and rebels at the edges of the Damascus suburb of Irbin.
Killed execution-style
The reported killings in Hama occurred during a military offensive this week that intensified a five-month-old crackdown on the conservative city, where Assad's father crushed an armed Islamist revolt in 1982 and killed thousands.
"They were killed execution-style, mostly with one bullet to the head. Iron chains that had tied them were left on their legs as a message to the people to stop resisting," Abu Al-Walid, an activist in the city, told Reuters by telephone.
Another activist said the bodies, their hands tied with plastic wire and some with their legs chained, were dumped in the streets of five Hama neighborhoods on Thursday evening.
Turkey, hosting a meeting with Gulf Arab foreign ministers later in the day, urged Syria's leadership to comply with an Arab League transition plan that calls on Assad to step down.
"We are siding with the Syrian people and their legitimate demands," Turkish President Abdullah Gul was also quoted as saying by the United Arab Emirates newspaper Al-Bayan.
More Syrians flee conflict
Turkish officials say the number of Syrians seeking sanctuary in Turkey has risen in the past six weeks, with 50 to 60 arriving daily, taking the total living in refugee camps to nearly 9,600 from about 7,000 previously.
More than 6,000 Syrian refugees have fled to Lebanon.
Turkey, which spent years rebuilding relations with Syria, turned against Assad after he ignored its advice to enact reforms to calm what began in March as a peaceful uprising against his rule, inspired by Arab revolts elsewhere.
Diplomatic pressure has failed so far to persuade Damascus to halt a violent crackdown on what the government says are armed terrorists implementing a foreign-inspired conspiracy.
The United Nations, which estimated in mid-December that more than 5,000 people had been killed, says it can no longer keep track of the death toll. The government says insurgents have killed more than 2,000 soldiers and policemen.
The UN Security Council discussed a new European-Arab draft resolution on Friday aimed at halting the bloodshed.
Russia willing to engage
Russia, which joined China in vetoing a previous Western draft resolution in October and which has since promoted its own draft, said the European-Arab version was unacceptable in its present form but added that it was willing to "engage" on it.
Russian UN Ambassador Vitaly Churkin criticized the draft, which endorses the Arab transition plan.
Moscow, he said, wants a Syrian-led political process, not "an Arab League-imposed outcome of a political process that has not yet taken place" or Libyan-style "regime change."
Britain and France said they hope to put the draft to a vote next week after Arab League Secretary General Nabil Elaraby and the Qatari prime minister brief the council on Syria on Tuesday.
The draft, obtained by Reuters, calls for a "political transition" in Syria. While not calling for UN sanctions against Damascus, it says the council could "adopt further measures" if Syria does not comply with the resolution.
Russia and Iran are among Syria's few remaining allies.
With Prime Minister Vladimir Putin facing the biggest protests of his 12-year rule and planning to return to the Kremlin in a March presidential vote, Russia wants to avoid approval of any regime change engineered from outside.
Moscow has been busy drawing "red lines" as it comes under pressure to stop shielding its old ally Assad and push him to halt the bloodshed in Syria.
Reuters
Photo: Demonstrators protest against Syria's President Bashar al-Assad after Friday prayers in Hula near Homs, January 27, 2012.