Charbel: Assassination plot against security chiefs 'exagerated'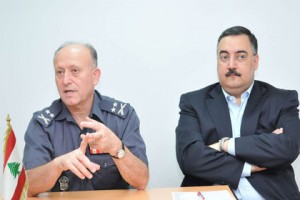 Interior Minister Marwan Charbel Assured the Lebanese on Saturday that the security situation in the country was under control .
"I reassure the Lebanese that there is nothing to be afraid of and that the situation is under control," Charbel told the television station LBC in an interview.
This comes after reports surfaced of a plot to target high-ranking security officials.
"What was raised about a plan to target the head of the Internal Security Forces Ashraf Rifi or the head of the Information Branch Wissam al-Hassan was blown out of proportion," Charbel said
An-Nahar daily reported Saturday that the police's Intelligence Branch had received information of a plot to target the ISF headquarters in Ashrafieh, Beirut. The newspaper said Rifi and Hassan were possible targets.
The newspaper added that in the last 24 hours two different sources had leaked similar information to the Intelligence Branch, erasing doubts of the credibility of the information.
Charbel also said that when he learned of the plot, security personnel were ordered to take additional measures to secure those in danger, including Rifi and Hassan.
"There is fear that amid a tense political situation that a fifth column interferes … which could lead to sectarian strife," the minister said.
Rifi confirms plot
Rifi confirmed on Saturday the reports of a foiled assassination attempt against security officials, Voice of Lebanon radio reported
He also revealed that al-Hassan was the target of the foiled attempt.
He did not provide further details on the manner in which the assassination was going to be executed, saying that the appropriate measures have been taken to tackle the situation.
Both Rifi and Hassan have been the target of a defamation campaign by Hezbollah and Free patriotic Movement .
Last November FPM leader MP Michel Aoun called on PM Nagib Mikati to fire both Rifi and al Hassan.
Background
This is not the first time Security officials in Lebanon are in danger .
Captain Wissam Eid, a top communications analyst with the ISF Intelligence Bureau, was assassinated in a car bombing outside Beirut on January 25, 2008 . It was Eid who reportedly discovered the link between the murder of former PM Rafik Hariri and Hezbollah operatives. The cell phones used by Hezbollah operatives led to his discovery.
Brigadier General Francois al-Hajj, chief of the army operations directorate, was killed in a car bomb attack in Baabda, along with three other people on December 12, 2007. He gained recognition as a brilliant commander during the 15-week operation against Fatah al-Islam in Nahr al-Bared Palestinian Refugee camp in northern Lebanon during Summer 2007. Hezbollah Leader Sayyed Hassan Nasrallah, drew a 'red line' for the Lebanese Army and sought to protect Fatah al Islam in 2007.