'Terrifying massacre' in Homs, Syria; activists reported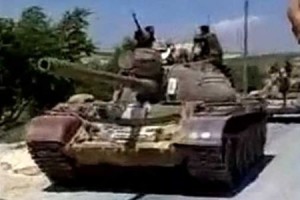 A "terrifying massacre" in the restive Syrian city of Homs has killed more than 30 people, including small children, in a barrage of mortar fire and attacks by armed forces loyal to President Bashar Assad, activists said Friday.
Details were emerging from an array of residents and activists on Friday, a day after the bloodshed. Residents told The Associated Press they were still gathering information but that the city was rocked by sectarian killings, gunfire and explosions.
"There has been a terrifying massacre," Rami Abdul-Rahman, director of the British-based Syrian Observatory for Human Rights, told the AP on Friday, calling for an independent investigation of the killings.
Syria tightly controls access to trouble spots and generally allows journalists to report only on escorted trips, which slows the flow of information.
Videos posted online from activists showed the bodies of children wrapped in plastic bags lined up next to each other.
Another video shows women and children with bloodied faces and clothes and in a house, with the narrator saying an entire family with its children had been "slaughtered."
The videos could not be independently verified.
The Observatory and the Local Coordination Committees, an umbrella group of activists, said the death toll in Homs was at least 35, but the reports could not be confirmed. Both groups cite a network of activists on the ground in Syria.
The Syrian uprising began last March with largely peaceful anti-government protests, but it has grown increasingly militarized in recent months as frustrated regime opponents and army defectors arm themselves and fight back against government forces.
The Observatory said 29 people were killed in the religiously mixed Karm el-Zaytoun neighborhood of Homs on Thursday, including eight children, most of them when a building came under heavy mortar and machine gun fire.
Residents spoke of another massacre that took place when shabiha — armed regime loyalists — stormed the district, slaughtering residents in an apartment, including children.
"It's racial cleansing," said one resident of Karm el-Zaytoun, speaking on condition of anonymity for fear of reprisal. "They are killing people because of their sect," he said.
Syria has a volatile sectarian divide, making civil unrest one of the most dire scenarios. The Assad regime is dominated by the Alawite minority, an offshoot of Shiite Islam, but the country is overwhelmingly Sunni Muslim.
Also Friday, Iran's official IRNA news agency said gunmen in Syria have kidnapped 11 Iranian pilgrims traveling by road from Turkey to Damascus.
Iranian pilgrims routinely visit Syria — Iran's closest ally in the Arab world — to pay homage to Shiite holy shrines.
The government crackdown has killed more than 5,400 people since March, according to estimates from the United Nations.
Assad's regime claims terrorists acting out a foreign conspiracy are behind the uprising, not protesters seeking change, and that thousands of security forces have been killed.
International pressure on Damascus to end the bloodshed so far has produced few results.
In a Twitter message, France's U.N. mission said the Security Council will discuss Syria on Friday during closed consultations.
The Arab League has sent observers to the country as part of a plan to the end the crisis, but the mission has been widely criticized for failing to stop the violence. Gulf states led by Saudi Arabia pulled out of the mission Tuesday, asking the Security Council to intervene because the Syrian government has not halted its crackdown.
In Cairo, Arab League chief Nabil Elaraby told reporters that he and the prime minister of Qatar would leave for New York on Saturday to brief the U.N. Security Council on the latest Arab plan to end the crisis in Syria. He said their talks, to start Monday, are designed to enlist the support of the council for the Arab peace plan.
The plan is a two-month transition to a unity government and includes Assad handing over his powers. Syria has rejected it as intervention in its internal affairs.
USA Today / AP