More details surfacing on the red Diesel scandal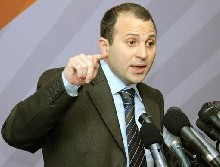 The head of the Court of Audit Judge Aouni Ramadan said in remarks published Friday that 101 million liters of red diesel were sold to merchants the night before government subsidies on the fuel were discontinued.This is more than 11 times the number revealed by Energy Minister Gebran Bassil.
Ramadan told Al-Mustaqbal newspaper that the investigation into wasting of public funds in the illegal sale will take from seven to ten days, adding that the "results will be publicly announced ."
"It appeared to us through the field investigation that the amount of red diesel sold is 101 million liters," he said.
Bassil defended on Thursday the oil refineries that have been accused of corruption saying they should be rewarded rather than questioned.
He said that the amount of red diesel sold in the last day of the subsidy deadline at midnight January 18 did not exceed the rate that was registered days earlier and which amounted to 7 to 8.5 million liters.
The subsidy that was to be discontinued on January was 3000 LL ( $2.00) per 20 liters or 10 cents per liter . This means that that the companies that bough the product made more than 10 million dollars profit at the expense of public funds .
Economy Minister Nicolas Nahhas told An Nahar that he sent a memo to the director general of oil refineries Sarkis Hleis asking him for more information on the scandal given that the "info he gave us are either incomplete or unclear."
Nahhas said he sent the memo after Ramadan questioned the director general of the economy ministry. The minister vowed to draft his own report, saying he would refer it to the cabinet and parliament's finance and budget committee within 15 days.
"It appears we will be hearing a lot more on this scandal in the near future ", one analyst told Ya Libnan on Friday