Aoun attacks the entire political system in Lebanon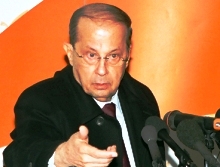 Free Patriotic Movement leader MP Michel Aoun on Friday slammed the entire political System in Lebanon, and accused it of "conspiring" against his Change and Reform bloc ministers.
"I accuse the entire political system of conspiring against us…. They are targeting us because we have exposed them but this intimidation will not scare us….We accuse everyone and let those accusing us show us their evidences. We have the documents to prove that they are thieves," Aoun said at a meeting with FPM officials in Sin el-Fil.
The Free Patriotic Movement leader said that the candidates supported by his party should be appointed as new members of the Higher Judicial Council, adding that the Future Movement , headed by ( the late former PM) Rafik Hariri's son, ( former PM) Saad ( Hariri) – "is defending thieves today."
Aoun also said that the electricity plan that was proposed by his Change and Reform bloc was "being obstructed" but did not specify to whom he was referring.
The FPM leader also slammed President Michel Suleiman, wondering "why did the president take an oath to protect the constitution?"
Aoun added: "I want an answer from the PM and the speaker: How can a head of a parliamentary committee block the laws proposed by a ministry, how can he have the upper hand?"
He was referring to MP Mohammed Qabbani, head of the energy parliamentary committee.
Aoun added he will not call President Suleiman , "because I will not find him "
Commenting on power cuts and Energy Minister Gebran Bassil's call for more electricity rationing in the Lebanese capital in order to be fair to residents living in cities other than Beirut, Aoun asked: "Where is justice when I, who lives outside Beirut , pay for electric generator expenses , while Qabbani who lives in Beirut does not?"
Aoun then attacked March 14 by saying "that the anti-Syrian figures who were assassinated following the withdrawal of Syrian forces from Lebanon in 2005 are "falsely" called "martyrs."
"This labeling is false… anyone [of them] could have been killed for reasons like cheating on his wife." He said
Several Lebanese politicians and key figures who opposed the Syrian tutelage in Lebanon were murdered following the 2005 Syrian withdrawal from the country.
Aoun also criticized Progressive Socialist Party leader MP Walid Jumblatt over the issue of allocation of benefits to residents who were displaced by the 1975-1990 civil war.
Aoun's speech comes after his son-in-law Bassil was accused of corruption over the red Diesel scandal.
The head of the Court of Audit Judge Aouni Ramadan said in remarks published Friday that 101 million liters of red diesel were sold to merchants the night before government subsidies on the fuel were discontinued.This is more than 11 times the number revealed by Bassil.
The subsidy that was to be discontinued on January 19 was 3000 LL ( $2.00) per 20 liters or 10 cents per liter . This means that that the companies that bought the product made more than 10 million dollars profit at the expense of public funds .