Jumblatt headed to Moscow to discuss Syria crisis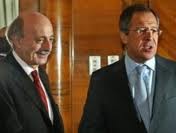 Progressive Socialist Party leader MP Walid Jumblatt headed to Moscow on Wednesday aboard a private jet, National News Agency reported.
MTV reported on Wednesday that Jumblatt had been invited to Moscow by Russian Foreign Minister Sergei Lavrov for talks on "the Syrian crisis."
Jumblatt has called on Russia to "launch a political initiative together with the countries concerned in order to pull Syria out of its crisis."
In his weekly column in the al-Anbaa newspaper published last week, Jumblatt also urged Iran to "launch some kind of initiative towards the Syrian people who stood by the Iranian revolution against the Shah regime and in the face of Saddam Hussein's attack in the eighties."
"There's no doubt that Syria may descend into a devastating civil war if the bloodshed continues," Jumblatt warned.
Jumblatt who was in Qatar last week to discuss the Syrian crisis , told Al-Jazeera television that "violence will only breed violence in Syria," adding that what concerns him is "the country, not the regime."
Jumblatt said he had no contact with the Syrian leader since meeting him in Damascus seven months ago in the early weeks of Syria's uprising.
The United Nations says more than 5,000 people have been killed in Assad's crackdown on protests. Armed insurgents are increasingly fighting back. Syria says foreign-backed "terrorists" have killed 2,000 soldiers and police.
"I am more and more concerned about the possibility that Syria will plunge into more violence and…maybe civil war," Jumblatt told Reuters in an interview at his Beirut home last Wednesday.
Jumblatt said that from the start of the crisis in March Assad had ignored calls from the United States, China, Russia and his former ally Turkish Prime Minister Tayyip Erdogan to defuse the revolt by swiftly enacting political reform.
Instead, Assad blamed a "conspiracy" against Syria and attempted to crush the popular uprising by force. Jumblatt said
"There was a very close political and family relationship between Bashar and Erdogan. But…he listens to nobody," Jumblatt said. "Up till now he has refused to listen to the rightful demands of the Syrian people for a new Syria."
Russia said on Wednesday it remained opposed to sanctions against Syria and signaled no change in its stance over the government's crackdown on protesters seeking an end to President Bashar al-Assad's rule. Foreign Minister Sergei Lavrov also reiterated Moscow's opposition to outside military intervention in Syria .