Future bloc calls Lebanon FM"official spokesperson of Syrian regime"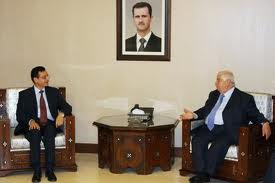 The Future Movement parliamentary bloc on Tuesday slammed Lebanese Minister of Foreign Affairs Adnan Mansour over his "behavior" at the Arab League, saying he has become "the official spokesperson of the Syrian regime."
This comes after Mansour stated on Monday that Lebanon decided to distance itself from the Arab League decision on Syria that was taken on Sunday.
Mansour also was the only Foreign Minister to vote against the Arab league resolution for ending the crisis in Lebanon.
Mansour also said the Arab Foreign ministers should put an end to Syria's suspension from the Arab League and the economic sanctions imposed upon it… He made the statement despite the fact that the killings in Syria continue
Mansour's statements generated criticism from some Lebanese politicians, among them Progressive Socialist Party leader MP Walid Jumblatt who told Mansour to keep his mouth shut over Syria crisis
Fishermen
The Future Movement also condemned the recent Syrian incursion into North Lebanon which targeted three Lebanese fishermen in Al-Aarida village.
"This attack reveals that [Syria] is treating Lebanon's government, independence and sovereignty flippantly," said the statement.
The statement added that "these ongoing attacks, committed by the Syrian regime, have become unbearable and it is unacceptable [for Lebanese official authorities] to maintain [their] silence."
The Future bloc also called on the Lebanese government "to come out [from the era of Syrian tutelage] and embrace the Arab League in order to halt these [Syrian] incursions."
Soleimani
Commenting on the statements that have been linked to the head of Iran's elite Al-Quds Force, Qassem Soleimani, regarding South Lebanon, the Future Movement said: "These remarks which have not been [refuted by Soleimani] insult Lebanese people and Arabs."
The bloc added that Soleimani's claims "uncover the truth regarding how Iran views Lebanon and Iraq."
Soleimani was quoted by Al-Arabiya television as saying last Friday that" Iraq and Hezbollah-dominated South Lebanon "submit" to Tehran's wishes in one way or another. "
While Iraq's Sadr has rejected the statement , Hezbollah remained silent despite the demands by March 14 that Hezbollah should clarify Suleimani's statement.
"Iran is using Hezbollah and its military influence as a means to blackmail [others] and put pressure [on them], regardless of the interests of Lebanese people or Arabs," the Future Movement said in its statement.