Suleimani's remarks outrage March 14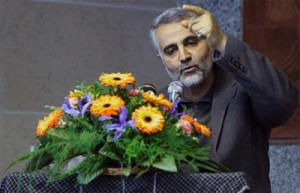 March 14 leaders were outraged by the remarks made by the head of Iran's Al-Quds Force of the Revolutionary Guards Corp, Brig. Gen. Qassem Suleimani who said on Friday that south Lebanon fell under Iran's influence.
March 14 opposition leaders demanded that Hezbollah clarify Suleimani's statement.
Speaking at a conference on youth and the "Islamic Awakening" in Tehran , Suleimani said: "In reality, in south Lebanon and Iraq, the people are under the effect of the Islamic Republic's way of practice and thinking."
March 14 MP Antoine Zahra, a member of the Lebanese Forces bloc , said that he was not surprised by Suleimani's statement about Iran's influence in south Lebanon and Iraq. "But we were surprised by this frank declaration which involved embarrassment, especially for Hezbollah, which claims that it is putting Lebanon's interest above its regional links and its ideological loyalty," Zahra said in a statement adding Suleimani's statement confirmed Hezbollah's subservience to Iran.
March 14 MP Ammar Houri a member of the Future Movement bloc said in an interview with Al-Liwaa newspaper published Saturday that Hezbollah "needs to condemn" statements made by Suleimani, regarding South Lebanon.
Houri also called on the Lebanese government "to demand clarification" from Tehran regarding Suleimani's remarks.
The MP added that this arrangement plunges Lebanon into "regional confrontations "
Fares Soueid, coordinator of March 14 General Secretariat said the remarks violated Lebanon's sovereignty and demanded that Hezbollah clarify them.
"The remarks by the commander of Al-Quds force have unmasked Hezbollah when he said that south Lebanon falls under Iran's influence, while the party is seeking through its political activity to convince the Lebanese and the world that it is a Lebanese party that is working to achieve Lebanese goals," Soueid said.
"Suleimani's remarks are rejected because they clearly violate Lebanon's sovereignty on the one hand, and put the residents of the south in great danger, turning them into a mailbox ," Soueid added.
Mustafa Alloush, a former March 14 MP and Future Movement official, said Suleimani's remarks have confirmed Hezbollah's subservience to Iran.
Suleimani's stance "has confirmed what we have been saying over the past years that Hezbollah is part of the Iranian Revolutionary Guard," Alloush said.
March 14 MP Ziad al-Qadiri , a member of the Future Movement bloc also condemned on Saturday Suleimani's statement.
"If there is arrogance in the region then it is the Iranian arrogance that has become unbearable," National News Agency (NNA) quoted Qadiri as saying.
The MP added that "a national stance needs to be taken against Iran's attempt to [target] Lebanon's independence… [and this] blatant attack on our sovereignty and national dignity needs to be renounced."
Qadiri called on President Michel Slueiman and the government of Prime Minister Najib Mikati to summon the Iranian Ambassador to Lebanon Ghadanfar Roken Abadi to address Suleimani's remarks.