Lebanon LM signs off on wage increase decree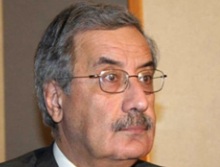 Lebanon Labor Minister Charbel Nahhas signed on Friday the government's bill on wage increases , but refused to sign the bill on the transportation allowance because he considers it "illegal."
Nahhas is reportedly preparing a draft law concerning the transportation and education allowances which he intends to present to the parliament for endorsement, according to local reports.
The Lebanese cabinet on Wednesday decided to raise the minimum wage in accordance with the agreement reached at the Baabda Palace between the General Labor Confederation and the Economic Committees under PM Najib Mikati's sponsorship and rejected the wage plan that was proposed by Nahhas.
According to the newly approved plan, the minimum wage would become LL675,000 ( $450). This sum excludes transportation benefits
The plan also calls for 100% increase on the first bracket of salaries (LL400,000 )( $367) and 9% on the second bracket ( not to exceed 1.5 million LL ($1000))
Under the new decree, the cabinet also canceled a LL200,000 increase approved by the government of former PM Fouad Siniora in 2008 as well as any wage boosts granted starting January 1, 2010.
The dispute during the cabinet session revolved around the issue of transportation benefits, with Nahhas demanding that it be added to the basic salary.
The issue was then put to the vote of cabinet, with 19 ministers voting against Nahhas' plan and 10 minister voting in favor.
The cabinet also asked Nahhas to prepare a draft law under which the government would define the daily transportation allowance. Nahhas was also asked to submit a proposal on education benefits.
"The transportation allowance and education benefits will remain unchanged until a new law is issued," Information Minister Walid al-Daouq told reporters after the session.
Nahhas' plan calls for raising the minimum wage to LL868,000 from the current LL500,000 – a whopping 74% .His plan included the transportation allowance. But the Shura Council rejected his plan on the basis that he cannot combine transportation allowance with the minimum wage, even though his plan was approved by the cabinet on December 21.