30 Killed in Syria, As Opposition Seeks U.N. Intervention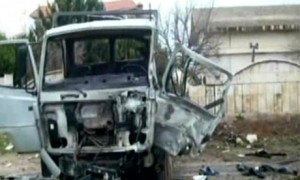 Syrian state media and activists say at least 30 people have been killed across Syria on Saturday as opposition groups appeal to the Arab League for United Nations intervention.
The SANA news agency says a roadside bomb blast killed at least 14 people in the northwestern Idlib province Saturday. It says a string of explosions hit a prison truck carrying detainees, wounding 26 people, including a number of security personnel accompanying the prisoners.
SANA blamed the attack on "armed terrorists." There was no immediate claim of responsibility.
Syrian activist Rami Abdul-Raham said Syrian security forces clashed with defected soldiers in northwestern part of the country, killing at least nine Syrian security forces in the town of Maaret al-Numan.
Activists say at least 6 others were killed in Syria on Saturday. Outside Damascus, Abdul-Raham said security forces fired on a funeral procession, killing four people. In Homs, sniper fire killed one person, and another died from injured sustained in a previous attack, he said.
The Local Coordination Committee in Syria said about 30 unidentified bodies were found in a hospital morgue in Idlib on Saturday. The report can not be independently confirmed.
As the violence continues, Syrian opposition members are pressing the Arab League to seek United Nations intervention in Syria. Head of the opposition Syrian National Council, Burhan Ghalioun, is in Cairo on Saturday for meetings with Arab League officials.
The Arab bloc is meeting on Sunday in Egypt's capital to discuss a report that reviews the first month of the heavily-criticized observer mission in Syria. The Arab League is expected to extend its 165-person mission and increase its numbers.
Ghalioun said his opposition group will reject the report if it is not objective.
"From our viewpoint, as the National Council, the conditions that the commission [of Arab monitors] were working under and the circumstances that accompanied them and the limited tools at their disposal, do not qualify them to forward an objective report about the Syrian situation, a report that reflects Syrian public opinion and international opinion." he said.
The observers have been trying to verify if Syrian President Bashar al-Assad's government is keeping its pledge to stop the violent suppression of a 10-month uprising against his 11-year autocratic rule.
The United Nations says violence linked to the uprising has killed more than 5,400 people. Syria says "terrorists" have killed about 2,000 security force members since the unrest began.
Meanwhile, officials in Lebanon say Syrian security forces killed a Lebanese fisherman and wounded another after seizing the men's boat near the countries' maritime border.
The father of the slain fisherman says his wife crossed the into Syria and saw their son's body in a hospital morgue. The relative said his son's uncle is receiving treatment in the same hospital and that a third man on the boat is being held by Syrian authorities.
After the incident, dozens of angry residents gathered and tried to seal off the nearest border crossing with burning tires.
VOA, Reuters, AP