Syria conflict persists as Arab monitors' mandate expires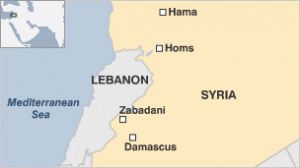 Syrian forces have pulled back from a rebel-held town under a local ceasefire, residents said on Thursday, but there was no sign of an overall easing of violence as a month-long mandate for Arab peace monitors in Syria expired.
Nine people were reported killed elsewhere, adding to a death toll of more than 600 since the monitors arrived in Syria, where an insurgency is hardening what began as a mostly peaceful struggle against President Bashar al-Assad's authoritarian rule.
Residents of Zabadani said troops and tanks that had besieged the insurgent-controlled town had pulled back after a deal to end days of fighting, according to an opposition leader.
Dozens of armored vehicles that had encircled Zabadani, a hill resort near the Lebanese border, withdrew to garrisons 8 km (5 miles) away, Kamal al-Labwani told Reuters.
Arab League foreign ministers, due to weigh their next move at meetings in Cairo this weekend, disagree over how to handle the uprising in which thousands of people have been killed.
An Arab League source said this week Syria might let the monitors stay on, but without any broadening of their mandate.
Some of Assad's opponents want action from the U.N. Security Council but it is also split, with Russia declaring it will work with China to block any move to authorize military intervention.
Western powers have acknowledged that a Libya-style campaign in Syria would be fraught with danger, but want the council at least to condemn Assad's repression and impose sanctions.
Reliable casualty figures are hard to come by in Syria, where media access has been limited and the outside world has had to piece together a picture from the conflicting accounts of the parties to an inchoate and increasingly bloody struggle.
The opposition Syrian Observatory for Human Rights, which charts the conflict from Britain, said 454 civilians had been killed since the Arab League observers hit the streets in Syria on December 26 to verify whether an Arab peace plan was working.
It said 146 members of the security forces, including 27 who had deserted to the opposition, had also been killed. The Observatory's figures did not include 26 people who authorities said were killed by a suicide bomber in Damascus on January 6.
The Observatory said security forces had ambushed and killed four activists in Jebel al-Zawiya, in Idlib province, on Thursday. Two people were killed in each of the restive cities of Homs and Hama, and the body of a youth detained earlier by security forces was found in the eastern city of Deir al-Zor.
PATCHY PERFORMANCE
Asked if the observer mission had made a difference, Rami Abdul-Rahman, the name used by the Observatory's director, said: "Yes, in the first week, the number of deaths fell sharply. After that, no, the numbers rose."
He said most of the victims had been killed in raids by security forces, not during anti-Assad demonstrations.
The United Nations said on December 13 that security forces had killed more than 5,000 people in Syria since March. A week later Damascus said insurgents had killed 2,000 security personnel.
The Arab League suspended Syria and announced sanctions for its failure to comply with a November peace plan which required that it halt the bloodshed, withdraw military forces from the streets, free detainees, provide access to Arab monitors and the media, and open a political dialogue with opposition groups.
The unrest, combined with Western sanctions, has pushed the value of the Syrian pound down by 50 percent on the black market, exchange dealers said. In recent days it traded unofficially at 70 pounds to the U.S. dollar. The official rate has fallen 23 percent to 57.8 pounds since March.
Assad's opponents say the authorities made only token changes when the monitors arrived after weeks of stalling, hiding armored vehicles in government compounds, painting army vehicles in police colors and letting in more journalists.
They contend that the Arab mission has only given Assad diplomatic cover to pursue a violent crackdown on his foes.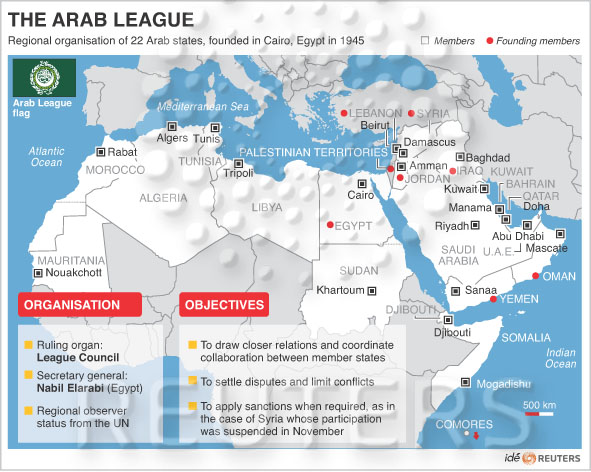 Some Arab countries, led by Qatar, which heads the League's committee on Syria, say the mission has failed. Qatar has even proposed sending in Arab troops, an idea opposed by Damascus and not endorsed by any other country in the 22-member League.
Sudan defended the mission, which is led by one of its generals. "Day by day, they are achieving more and more," Foreign Minister Ali Ahmed Karti told Reuters.
The appointment of Sudanese General Mohammed al-Dabi to lead the team alarmed rights activists, who say Khartoum committed atrocities in Sudan's Darfur region on the general's watch.
Iraq and Lebanon have said they will not enforce Arab sanctions on Syria, offering a trade lifeline to a country whose other neighbors are Turkey, Jordan and Israel.
European Union governments are expected on Monday to expand the list of people and Syrian companies and institutions targeted by EU sanctions, diplomats said in Brussels.