Jumblatt calls on Iran, Russia to save Syria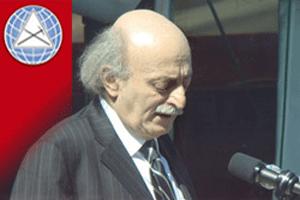 Progressive Socialist Party leader MP Walid Jumblatt called on Iran and Russia to come up with an initiative to save Syria from violence and civil war.
Jumblatt, who is currently in Qatar, told Al-Jazeera television that "violence will only breed violence in Syria," adding that what concerns him is "the country, not the regime."
Earlier today he discussed regional developments with Qatari Emir Sheikh Hamad Bin Khalifa Al Thani in Doha , National News Agency reported.
Prior to his departure to Qatar on Wednesday Jumblatt said Syria risks plunging deeper into violence and even civil war because President Bashar al-Assad "listens to nobody" inside or outside the country.
Jumblatt said he had no contact with the Syrian leader since meeting him in Damascus seven months ago in the early weeks of Syria's uprising.
The United Nations says more than 5,000 people have been killed in Assad's crackdown on protests. Armed insurgents are increasingly fighting back. Syria says foreign-backed "terrorists" have killed 2,000 soldiers and police.
"I am more and more concerned about the possibility that Syria will plunge into more violence and…maybe civil war," Jumblatt told Reuters in an interview at his Beirut home on Wednesday.
Jumblatt said that from the start of the crisis in March Assad had ignored calls from the United States, China, Russia and his former ally Turkish Prime Minister Tayyip Erdogan to defuse the revolt by swiftly enacting political reform.
Instead, Assad blamed a "conspiracy" against Syria and attempted to crush the popular uprising by force.
"There was a very close political and family relationship between Bashar and Erdogan. But…he listens to nobody," Jumblatt said. "Up till now he has refused to listen to the rightful demands of the Syrian people for a new Syria."