Iranian Central Bank Said to Face Asset Freeze by EU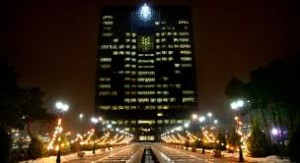 European Union governments reached a preliminary agreement to freeze the assets of Iran's central bank, building on planned restrictions that will center on an oil embargo, said an EU diplomat with knowledge of the matter.
The agreement by diplomats from the 27-nation EU in Brussels would allow for opt-outs from the asset freeze on a case-by-case basis to protect European trade with Iranian entities not covered by sanctions, the diplomat said on the condition of anonymity because the talks are private.
EU foreign ministers are due to decide on the planned oil embargo and asset freeze in response to Iran's nuclear program at a Jan. 23 gathering in Brussels.
Today's meeting left it to the ministers to determine the precise timing of the oil ban, according to the EU diplomat, who said European governments would probably decide to exempt existing contracts until the end of June. Maja Kocijancic, an EU foreign-policy spokeswoman, declined to comment on the planned sanctions when reached today by telephone.
The proposed phase-in of the oil embargo, which requires unanimity among the bloc's 27 states, would allow nations including Greece, Italy and Spain to find alternative supplies. The three countries accounted for about 68 percent of EU imports from Iran in 2010, European Commission data show.
French Compromise
The proposed start of a full embargo on July 1 could be a compromise between countries led by France, which have been urging the shortest delay, and nations most exposed to imports from Iran which originally pressed for an exemption of as long as 12 months, said another EU diplomat, who declined to be named because the talks are confidential.
Iran threatened to close the Strait of Hormuz, through which almost 20 percent of the world's oil flows, if sanctions are tightened over its nuclear program, which the U.S. and EU suspect of being a cover for the development of weapons.
The second-largest oil producer in the Organization of Petroleum Exporting Countries after Saudi Arabia says its program is for civilian purposes only.
Crude oil for February delivery slid 0.1 percent to $100.49 a barrel at 1:40 p.m. on the New York Mercantile Exchange.
EU sanctions on Iran already include an embargo on equipment for and investment in the oil and natural gas industries. The bloc has also imposed restrictions on transfers of funds to and from Iran.
The oil ban would cover imports of Iranian oil to Europe, purchases out of Iran into non-EU countries, transport of oil from Iran as well as finance and insurance of oil contracts, according to one EU diplomat. It will apply to all companies under the EU law, including subsidiaries of foreign companies registered in Europe and branches of EU companies based outside the continent, the diplomat said.
Bloomberg