Future movement MPs, Geagea discuss the Electoral Law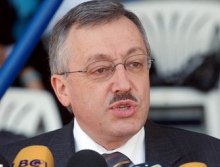 A delegation of Future movement MPs on Thursday held talks with Lebanese Forces leader Samir Geagea at his residence in Maarab to discuss the general situations in the country and especially the issue of the electoral law," MP Ahmed Fatfat said following the meeting.
The Future movement delegation included MPs Ahmed Fatfat, Hadi Hbeish and Ziad al-Qaderi. The meeting was attended by LF bloc MPs Georges Adwan and Antoine Zahra.
"We discovered that we have several issues in common , as we all believe in the Taef Accord and the principle of equal power-sharing between Christians and Muslims, and everyone is aware of the legitimate concerns some Lebanese parties have, especially the Christians," Fatfat said
"We stressed the importance of coexistence and the need to find an electoral which would appease the concerns of all parties and guarantee proper political representation in Lebanon and justice in the distribution of electorates," the MP said, noting that "the Future Movement would only take a decision after coordination with its allies."
Fatfat said the conferees discussed all the possibilities, noting that meetings would continue "until the March 14 forces reach a common vision in this regard."
Asked whether the electoral law proposed by the Greek Orthodox Gathering had been shelved, Fatfat ruled out that, noting that "there's a possibility to adopt it partially or in its entirety."
But he warned that a parliament produced by such an electoral law would not preserve coexistence among the various communities.
Asked about the proportional representation law proposed by Interior Minister Marwan Charbel, Fatfat said: "After discussing this proposal extensively at the Phoenicia (Hotel) conference, we found out that it contains several gaps and discrimination in the distribution of the electorates, which means that it does not achieve justice."
Assad lost legitimacy
Earlier today Geagea called on Hezbollah to negotiate with political parties in Lebanon to reach a "historical settlement" over its arms and all the controversial issues amid the developments in the region.
"It may seem a hard step but it's courageous and necessary… The sooner the better because changes (in the region) will decrease the value of its (Hezbollah's) arms," Geagea said according to report by As Safir newspaper .
Commenting on the Syrian revolt Geagea said Syria will head towards more complications and escalations, confirming that the collapse of the regime is "inevitable and a matter of time, not more."
"The regime of Syrian President Bashar Assad can no longer go on… it lost the local, Arab and international legitimacy," he noted.