Costa Concordia:23 people still missing, 11 confirmed dead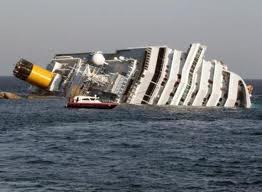 The search of the Costa Concordia cruise ship has been suspended after the capsized vessel slipped, the Italian coast guard says.
Officials are hoping to begin salvage work soon, including pumping oil off the wreck, as hopes fade of finding any more survivors.
Twenty-three people are missing, and 11 confirmed dead, after the huge ship crashed into rocks on Friday.
There are fears the vessel might slip into deeper water off the Tuscan coast.
Continue reading the main story
"Start Quote
Go aboard. It's an order. You have no evaluation to make. You declared abandon ship, now I give orders. Go aboard. Is it clear?"
Gregorio de Falco Livorno Port Authority
Transcript: Coastguard call
Must captain be last off?
"Instruments indicated the ship had moved. We are in the process of evaluating if it has found a new resting point to allow us to resume," fire department spokesman Luca Cari said.
Along with the salvage workers – who will begin operations once rescue efforts have been declared over – a specialist team from Dutch salvage company SMIT is to prepare to pump more than 2,300 tonnes of fuel from the ship's 17 tanks.
The firm says this could take several weeks. Experts believe there is little risk of a major fuel leak that would contaminate the scenic area.
Hungary's foreign ministry said one of the recovered bodies was that of Sandor Feher, a 38-year-old Hungarian musician working on board, the Associated Press news agency reported.
Italian Prime Minister Mario Monti, who is visiting London, said: "Any such disaster could and should be avoided".
He added that his government was working to limit any environmental damage.
'Too dark'
Captain Francesco Schettino is under house arrest, accused of causing the crash. Prosecutors have also accused him of fleeing the Costa Concordia before evacuation was complete.
A recording of a call between him and a port official after the crash appears to support this, though Capt Schettino denies the claims.
In the recording, released by the Corriere della Sera newspaper, Livorno Port Authority chief Gregorio De Falco can be heard repeatedly telling the captain to get back on board to help stranded passengers.
"Schettino, maybe you saved yourself from the sea, but I'll make you have trouble for sure. Go aboard," says Mr De Falco.
The captain appears to refuse, replying first that there are rescuers already on board, and then that it is dark and difficult to see.
Coastguards believe he never went back to the ship. He was arrested shortly afterwards.
But during a court hearing on Tuesday, the captain said he could not get on board the vessel because it was lying on its side.
He argued that after his ship hit rocks, he executed a difficult manoeuvre that had saved many people's lives.
According to Italian media, Capt Schettino told investigators he had left the ship accidentally after tripping and falling into a rescue craft.
Missing
The ship, carrying 4,200 passengers and crew, had its hull ripped open when it hit rocks late on Friday, just hours into a Mediterranean cruise.
Some people were forced to swim for shore as the angle of the ship made launching lifeboats impossible.
The brother of a waiter on board the Costa Concordia travelled to Giglio to find his missing relative.
"I am seeing the ship before my eyes, and I can't believe how fast my heart is beating," Kevin Rebello told the BBC.
"I hope my brother finds his way home. He's a very brave guy, he's a very nice guy and people on the ship loved him very much."
He said Costa Crociere, the owner of the ship, took several days just to confirm that his brother Russel was on board.
Italy's interior ministry on Tuesday published a list of 28 passengers and crew they say are unaccounted for. It names 13 Germans, six Italians – including a five-year-old girl – four French nationals, two Americans, an Indian, a Peruvian and a Hungarian.
It does not take into account the five bodies discovered the same day which have not yet been identified.
Italian media have reported that a German passenger thought to be missing had turned up at his home.
'Near miss'
Costa Crociere has said that on Friday Capt Schettino diverted from the normal route to sail close to Giglio.
Meanwhile, satellite tracking information given to the BBC by the shipping journal Lloyd's List Intelligence shows the Costa Concordia had sailed even closer to the island on a cruise last August.
Newsnight examines the route taken by the Costa Concordia last August and on Friday
Lloyd's List told the BBC that the vessel passed within 230m of the island on 14 August 2011 to mark La Notte di San Lorenzo – the night of the shooting stars festival on the island.
The route deviation on that occasion had apparently been authorised by Costa Crociere.
The company said on Monday that the ship was never closer than 500m to the coast when it passed on 14 August.
Lloyd's List describes that occasion as a "near miss" and says the ship's route would have been less than 200m away from the point of collision on Friday's voyage.
Costa Crociere said on Monday that the route deviation last Friday had been "unauthorised, unapproved and unknown to Costa".
But Richard Meade, editor of Lloyd's List, said: "The company's account of what happened, of the rogue master [Capt Schettino] taking a bad decision, isn't quite as black and white as they presented originally."
"This ship took a very similar route only a few months previously and the master would have known that."
Costa Crociere says it is looking into the claims, but stands by the statement it gave on Monday.
Lloyd's List says the issue of which nautical charts the captain of the vessel was using looks likely to be critical to his defence if he does face a criminal prosecution.
BBC