Syria rejects Arab troops, UN urged to step in through Ch. 7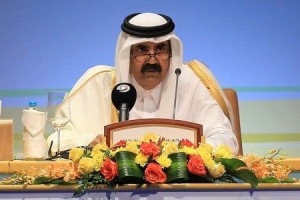 Syria on Tuesday ruled out any deployment of Arab troops as proposed by Qatar to halt 10 months of deadly unrest, as army defectors urged the UN Security Council to intervene.
"Syria rejects the statements of officials of Qatar on sending Arab troops to worsen the crisis… and pave the way for foreign intervention," the foreign ministry said.
"The Syrian people refuse any foreign intervention in any name. They will oppose any attempt to undermine the sovereignty of Syria and the integrity of its territory," it said in a statement.
"It would be regrettable for Arab blood to flow on Syria's territory to serve known (interests)," the ministry added, without elaborating.
In an interview with US television aired at the weekend, Qatar's emir, Sheikh Hamad bin Khalifa Al-Thani, said he favoured sending Arab troops to Syria to "stop the killing."
From its base in Turkey, the Syrian Free Army (SFA) called on the 22-member Arab League to "quickly transfer the case of Syria to the UN Security Council," in a statement signed by its leader Riyadh al-Asaad, a dissident colonel.
The United Nations has pledged to assist the Arab mission deployed in Syria since last month, saying Monday it would start training the bloc's observers within days.
But the defector force is seeking much bolder action from the world body and urged the international community to "act quickly against the regime through Chapter 7 of the UN charter to maintain peace."
The Security Council's robust Chapter 7 provision allows for UN-backed forces to initiate military action, not simply respond when attacked.
UN chief Ban Ki-moon on Monday said "the situation in Syria has reached an unacceptable point," and urged the Security Council to respond with "seriousness and gravity and in a coherent manner."
But tough action by the council has been repeatedly blocked by Damascus allies China and Russia, which vetoed a Western draft UN resolution in October that would have condemned Assad's regime.
Russia, which has accused the West of eyeing Libya-style regime change in Damascus, on Monday distributed its second draft resolution that blames both sides for the crisis and opposes strong UN action, Western diplomats said.
France on Tuesday dismissed the Russian draft, saying it fell "very far from responding to the reality of the situation in Syria."
Leading Western powers have so far ruled out military intervention like that waged against Moamer Kadhafi's regime.
Syria's 'warning against the deployment of Arab troops comes amid signs of stronger coordination between the military and political opponents of President Bashar al-Assad's regime.
The Syrian National Council, an umbrella group, said it had opened a liaison office and hotline with the SFA to follow political developments on the ground.
The SFA claims to have gathered some 40,000 fighters under its command since an anti-regime revolt broke out in Syria in mid-March. The crackdown on dissent has since cost more than 5,000 lives, the United Nations estimates.
A media adviser to a top Syrian army defector, General Mustafa Ahmad al-Sheikh, said last week that a special council is being set up to oversee all military operations.
Assad's regime was also hit on Monday by the defection of a leading MP, Imad Ghaliun, who announced he was going into exile, along with an opposition figure who heads Syria's largest tribe, Nawaf al-Bashir.
In fresh violence on Tuesday, 11 civilians were killed, including eight who died in a minibus explosion in the northwestern province of Idlib, the Syrian Observatory for Human Rights said.
A senior military official in Israel, meanwhile, said his country had serious concerns about what will happen to "huge stockpiles" of chemical and biological weapons if the Assad regime collapsed.
"The question is when, not if. And the big question is what's going to come the day after," said Major General Amir Eshel, head of the Israeli military's planning division.
"The immediate concern is the huge stockpiles of chemicals, biologicals (weapons), strategic capabilities that are still going into Syria, mainly from eastern Europe," Eshel said.
IT