Concordia cruise ship Captain to blame, Costa chairman says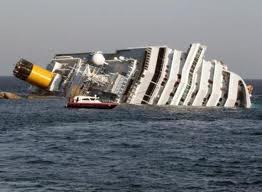 The chairman of Costa Crociere on Monday blamed the captain's decision to take an unauthorized route for causing the cruise ship to hit rocks off Italy's coast, an accident that has claimed at least six lives and will cost the Miami-based Carnival Corp. as much as $95 million in lost revenue this year.
Costa Chairman Pier Luigi Foschi said at a news conference in Genoa that it was Captain Francesco Schettino's "human error" that brought the ship carrying more than 4,200 passengers and crew too close to the shores of Giglio island where it ran aground, gashing its hull. The Costa Concordia's route was set electronically before it left Civatavecchia near Rome.
"We can't deny that there was a human error," Foschi said. "The route had been properly programmed in Civitavecchia. The fact that the ship strayed from that course can only be due to a maneuver that was not approved, not authorized nor communicated to Costa Crociere by the captain of the ship."
While the captain has the final decision to adjust the ship's course, that move is typically done only because of bad weather or an emergency. Foschi said. Schettino apparently rerouted the ship to "pay a salute" to the island of Giglio and struck rocks that were above the water line, Foschi said. As far as he knew, the captain had not been drinking alcohol.
The Concordia shipwreck took its toll Monday on Carnival's stock, which dropped 16 percent in Europe, the biggest decline since 2000. U.S. markets were closed in observance of Martin Luther King Day.
Carnival said it expects the Concordia to be out of service at least until November, the end of the fiscal year, and possibly longer. That will impact 2012 earnings by $85 million to $95 million or 11 to 12 cents per share, according to guidance issued by the company. Carnival is self-insured for the loss of use of the Costa Concordia.
"We are deeply saddened by this tragic event and our hearts go out to everyone affected by the grounding of the Costa Concordia and especially to the families and loved ones of those who lost their lives," Carnival Chief Executive Officer Micky Arison said in the statement.
Industry analysts are sensitive to the impact this will have on future bookings, especially in Europe, which has become a larger part of Carnival's business. European brands in total represent about 37 percent of Carnival's fleet, with Costa accounting for about 16 percent of Carnival's available passenger cruising days, according to UBS Investment Research.
"The timing of the incident could be particularly disruptive given it is early in Wave season, which is the highest booking volume period of the year for cruise lines," wrote Robin Farley, an analyst with UBS wrote in a note Monday to investors, where she lowered 2012 earnings estimates to $2.55 per share, down from $2.75.
A decision had not been made as to whether the Concordia, which toppled over as it took on water, needs to be declared a total loss, Foschi said. The Concordia cost $450 million to build when it entered service in 2006.
Carnival has insurance covering damage to the ship, with a deductible of about $30 million, the company said. It also carries third-party personal injury liability insurance, which carries a deductible of about $10 million for this incident.
To read the complete report click on miamiherald.com