Bomb material found in Thailand after terror warnings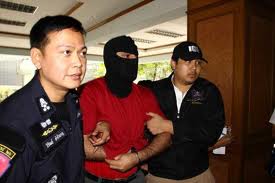 Thai police discovered bomb-making materials after the detention of a Lebanese man suspected of planning an attack, but the prime minister insisted on Monday that everything was under control.
Authorities beefed up security in parts of the capital, its two main airports and other areas popular with tourists after the United States and Israel warned on Friday of a possible terrorist attack.
The statements have irked Thailand, which is concerned about damage to its thriving tourism industry and has so far appeared to play down the warnings.
Police detained a Lebanese man reportedly carrying a Swedish passport. Officials said he had links with Hezbollah, a Shi'ite Islamist group in Lebanon backed by Syria and Iran that is on the U.S. blacklist of foreign terrorist organizations.
National police chief Priewpan Damapong told reporters the suspect, named as Atris Hussein, had given police an address where bomb-making material was being kept.
Officers discovered large amount of substances that could be used to make explosives in a building in Samut Sakhon, southwest of Bangkok, including 4,380 kg of urea and 10 gallons of liquid ammonium nitrate.
Priewpan said the suspect had maintained that his group had not planned an attack in Thailand but intended to transport the substances to a third country, which he would not name.
UNDER CONTROL
Asked about the discovery, Prime Minister Yingluck Shinawatra told reporters: "I have been informed. I would like to ask people not to panic. We are currently in control of the situation."
Thai officials have seemed irritated by travel advisories issued by the U.S. and Israeli governments, followed by several more since Friday. Foreign Minister Surapong Towijakchaikul said diplomats from countries that had issued warnings would meet with him for an explanation on Monday.
Tourism is a big money-earner for Thailand and ministers are keen not to deter travelers, especially after the hit to tourism from severe flooding in 2011 and political unrest in 2010.
Yingluck also instructed the defense ministry to consult U.S. embassy officials to discuss its terror warning and seek a retraction.
A defense envoy met the embassy's military advisory group, Edward A. Swanda, on Monday during which it asked for better coordination on the release of information, spokesman Thanathip Sawangsaeng told reporters.
However, an embassy spokesman later said the terror warning to its citizens was valid and the United States had no plan to rescind it.
Defence Minister Yuthasak Sasiprapha told reporters in the northern city of Chiang Mai on Sunday that Thailand was not the target, although officials have also said that areas of Bangkok frequented by Westerners and Israelis could be hit.
Yuthasak said that a second suspect had managed to leave the country.
Reuters