Saudi Shiites protest after troops kill 1 youth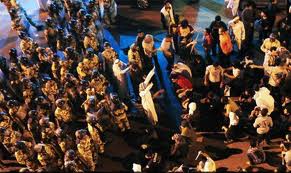 Hundreds of protesters took to the streets in a tense region in eastern Saudi Arabia on Friday following the killing of a Shiite youth in clashes with security forces.
Also, British Prime Minster David Cameron met with the Saudi king to discuss regional issues and cooperation between the two countries.
Videos posted on Facebook sites by activists involved in the eastern protests showed hundreds of young men, their faces covered with scarves and T-shirts, chanting, "We will not forget you, o martyrs," a reference to those killed by security forces.
The killing and protests reflect simmering tensions in Saudi Arabia's oil-rich Qatif region, where most residents belong to the kingdom's Shiites, who make up 10 percent of the kingdom's 23 million people. The Shiites complain of discrimination by the Sunni rulers, saying they bar them from key positions in the military and government and does not give them an equal share of the country's vast oil wealth.
As uprisings against autocratic rulers began to sweep the Arab world last year, small protests were held in eastern Saudi Arabia but were largely quelled, though tensions remain.
Interior Ministry spokesman Maj. Gen. Mansour al-Turki said Friday that residents threw Molotov cocktails at a security vehicle that was patrolling in the town of al-Awamiya late Thursday, setting it on fire. While forces were putting out the fire, they were shot at. They returned fire, wounding two, one of whom later died in the hospital, he said.
The Saudi Shiite news site Rasid said 22-year old Issam Mohammed was hit by several gunshots in his body after a security vehicle was pelted with rocks in al-Awamiya. The site said three protesters were wounded.
Amnesty International called on Saudi Authorities to investigate the man's death, calling it "the latest of several disturbing protester deaths in Saudi Arabia in the last couple of months."
In November, four people were killed and nine wounded in the same region in similar clashes with security forces.
The Saudi government has tried to portray the protests as the result of foreign efforts to destabilize the kingdom. Earlier this month, it released the names of 23 people it said were engaging in confrontations with security forces to serve "foreign agendas" and offered rewards to those who turn them in.
Ultraconservative Saudi Arabia is deeply wary of the wave of Arab Spring uprisings, particularly in nearby Bahrain, where a Shiite majority is demanding greater rights from its Sunni rulers. Earlier this year, Saudi Arabia led a Gulf military force that intervened in Bahrain to help the ruling family quell the revolt.
Meanwhile, Cameron made his first trip to Saudi Arabia since becoming prime minister.
In meetings with King Abdullah and Crown Prince Nayif, Cameron discussed regional issues such as the political crises in Yemen and Syria and efforts to keep Iran from producing a nuclear weapon.
"It can take a different path and stop destabilizing the region and stop the march toward a nuclear weapon," Cameron said of Iran in an interview with Al-Arabiya television Friday. "But it needs to change direction."
Iran says its nuclear program is for peaceful purposes.
Saudi Arabia is Britain's biggest trading partner in the Middle East, with bilateral trade worth with bilateral trade worth 15 billion pounds (US$ 23 billion) a year. Saudi investment in Britain is worth more than 62 billion pounds.
AP