Another explosion in south Lebanon targeting a liquor store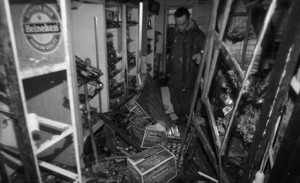 Another explosion in south Lebanon targeting a liquor store took place early morning Thursday causing material damage
The owner of the store Ahmed Ali Hamdan told Voice of Lebanon that the bomb that targeted his shop weighed about half a kilogram ( 1 pound) of TNT.
"This is a terrorist act that targets the country," he told VOL.
"They want to drive us out the country," Hamdan told AFP. A possible reference to Hezbollah and radical extremists
"I opened the shop 17 years ago and I have never had problems with anyone." He added
The bombing of the shop which is located in the town of Sarafand resulted in $30,000-worth of damages, the shop's owner said Thursday. The bomb also created a huge crater and damaged the windows of nearby shops, he said
The Internal Security Forces arrived at the scene and launched an investigation.
On November 17 two bombs targeting a nightclub and a liquor store exploded in the Lebanese city of Tyre (Sour), one of the few areas in South Lebanon where alcohol is available for sale.
One of the bombs targeted the Elissa Queen Hotel on the seafront of the scenic Mediterranean coastal town.
The second bomb struck a shop selling alcohol in the Christian quarters of Tyre, a multi-confessional city especially popular with tourists during the summer season.
Last month a bomb ( two-kilogram of TNT) targeting the seaside Tyros restaurant in the southern city of Tyre caused substantial material damage.
Alcohol is not banned in Lebanon, but in areas under the control of the Lebanese Shiite movement Hezbollah and extremist radical Sunni movements liquor is not allowed.