Why Bill Daley had to go?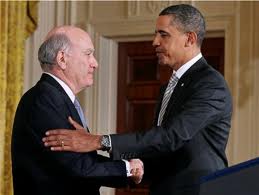 The Bill Daley era on Monday screeched to a jarring, clattering conclusion.
Daley, who departs after a little more than a year as President Barack Obama's chief of staff, was never a great fit inside the West Wing — and Obama and his closest aides realized that mere months into his tumultuous tenure.
People close to the situation tell POLITICO that Daley decided to bolt nearly a year earlier than expected in part because he felt marginalized. He was still involved in most key meetings, but he had waning influence, particularly over political decisions made by Obama's inner circle.
Daley, a charming if blunt former Commerce secretary, had an even rockier relationship with key Hill Democrats, especially Sen. Harry Reid (D-Nev.). So the selection of low-key budget expert Jack Lew as his replacement was greeted with relief among Democratic lawmakers.
"You can be an outsider from Washington for the last 10 years, or you can be an outsider to Obama's inner circle," said one senior Democrat, summing up Daley's tenure. "But you can't be both."
Here are five reasons why Daley struggled as chief of staff, culled over the past few months from White House staffers, former Obama administration officials and other Democrats.
1. Daley's power was gone. People close to the situation say Daley isn't dumb, mean or maladroit. He'd simply been out of the D.C. game too long, more than a decade, and had no intuitive feel for the insular circle of close advisers who surround the president.
Daley, the son of legendary Chicago Mayor Richard Daley, irked some in the West Wing with his faith that collegial, backroom deal-cutting with House Speaker John Boehner (R-Ohio) would work. He believed that the Washington he left after serving in the Clinton administration still existed and counseled Obama to go all-in on a grand bargain with the speaker despite signs of tea party revolt in Boehner's caucus.
To his credit, Daley was philosophical about it. Senior Adviser David Plouffe and Lew also supported the Boehner deal (National Economic Council Chairman Gene Sperling was reportedly the highest-profile aide to raise objections), but Daley saw it as his role to take the fall, and joked ruefully and often about his sacrifice.
Daley wasn't exactly a dead man walking inside the White House, but his juice box was empty. He remained unpopular among some staffers, the result of a more hierarchical management style, a closed office door and a formal, businesslike manner at odds with a group that prides itself on informality. He also had a habit of freelancing, including his decision to sit down for a frank, expletive-laced interview with POLITICO's Roger Simon — without informing Obama's communications staff.
He recently had made a major accommodation to his internal critics, re-instituting the popular 8:30 a.m. meeting he had scrapped after his predecessor, Rahm Emanuel, departed.
But one former aide, speaking a few weeks ago, attributed several recent staff departures to frustration with Daley.
An email requesting comment from Daley on Monday wasn't returned.
2. His political instincts were off-key. Daley's departure is a case in point: He blindsided Obama. His decision comes at a lousy time for the president politically, even if it ultimately benefits Obama to have his machine functioning smoothly at the start of an election year — and before upcoming budget battles, staffers said.
When Daley returned from vacation last week and informed the president he was going, Obama first asked him to stay, then reluctantly granted the request without much of a back-up plan.
No one in the West Wing expected Daley to leave before his stated end-of-2012 sell-by date, least of all the president. Only a couple of other replacements beyond Lew were briefly mulled: National Security Adviser Tom Donilon, the frontrunner for the job when Emanuel left in late 2010 to run for mayor of Chicago, and Phil Schiliro, Obama's recently departed legislative affairs director, according to White House sources.
One alternative not seriously discussed: Obama's senior councilor and former interim chief of staff Pete Rouse, who didn't want to reprise the stopgap role he played for a few months last year. There were two reasons: Rouse didn't want to do it, and Obama wanted a more forceful decision maker in the post. The laid-back Rouse is better known for crafting detailed battle plans than ramming them through.
The president first spoke with Lew midweek. By Friday, Lew had accepted the position, a senior official told POLITICO.
"He is universally liked," the official added. "He is universally respected."
3. Daley was so 2010. Lew is a liberal with a deep commitment to preserving safety-net programs. Bill Daley is a moderate with deep connections to Chamber of Commerce types and Wall Street titans.
When Obama made his hairpin turn to the right in response to the Democrats' mauling in the midterms, Daley was his guy.
Now, with the advent of Obama as populist economic warrior? Not so much.
Lew is a technician and not a boat-rocker. But no recent Obama personnel move better captures the president's election-year shift to the left.
"The Daley departure marks the end of Obama's attempt to look pro-business, launched a year ago with his much-touted [Wall Street Journal] op-ed promising regulatory reform," said Phil Kerpen, vice president for policy at Americans for Prosperity, a conservative group aligned with the tea party. "Now Obama will return to his comfort zone as a far left demagogue stoking class envy and playing to his ideologically-motivated left-wing base," Kerpen wrote on POLITICO's Arena.
4. Hill Democrats wanted him out. Badly. Reid really, really didn't like Daley, owing to the chief of staff's bluntness and habit of delegating interactions to perceived subordinates (including Lew). Reid also faulted Daley for the White House's on-again, off-again strategy of blaming DC dysfunction on all of Congress — not just the GOP.
Reid, who last year called Obama personally to vent his displeasure with Daley, received a presidential heads-up before the public announcement.
Lew doesn't have Daley's baggage, and was frequently called in to soothe Reid and his number two, Sen. Chuck Schumer (D-NY).
"He's got a good reputation on the Hill and will, I think, be better at the day-to-day management of relationships on the Hill than Daley," one Senate Democratic aide said. "Overall, a tad surprising, but a good choice."
House Democratic officials hope that Lew, a former top aide to then-Speaker Tip O'Neill, will balance a White House team more familiar with the Senate side of the Capitol. He is said to have good relationships with House Democratic leaders, though Minority Leader Nancy Pelosi (D-Calf.) ripped into him last summer during a meeting on the debt ceiling.
Pelosi was angry because she felt the White House had cut House Democrats out of negotiations on an earlier budget deal, and Lew tried to explain the White House view. "Don't insult us," Pelosi snapped, adding that the White House budget team wasn't good at collecting votes. "You guys don't know how to count," she said.
On Monday, she praised the choice, calling Lew a "proven leader with extensive House experience, an expert on our nation's toughest economic challenges, a strong voice in addressing our nation's budget deficit, and a dedicated public servant with a long record of achievement inside and outside of government."
The approval isn't universal. "He likes to confuse members with wonk speak that leave one impression but often mean something very different," a senior Democratic congressional aide said. "It's odd that he's viewed as having strong relationships with the Hill, but of course after Daley the bar is pretty low."
A bit of irony: Obama has just tapped a budget impresario known for cutting complex, non-acrimonious deals with the Hill — at the same time he's been telling everyone who will listen that his political strategy is to circumvent the GOP-controlled House, and he fili-busted the Senate with his recess appointment of Richard Cordray.
Lew "knows his stuff," a Hill Republican aide said. "On the one hand, that could mean actual progress on the deficit. At the same time, and perhaps more likely, he's knowledgeable enough to slyly throw sand in the gears and guarantee the gridlock the White House is so invested in."
5. Obama shares the blame. The Daley mess, like many of the president's worst stumbles, comes down to Obama's singular, sometimes-puzzling management style.
Since the departure of the outsized, brilliant and oxygen-sucking Emanuel, Obama hasn't had an effective commander on deck. Moreover, the churn in personnel suggests he doesn't have much of a vision yet for what a non-Rahm chief of staff should do. And that remains a serious problem, Democrats close to the White House said.
Daley was chosen for a handful of check-the-box reasons rather than overall considerations of how he would fit into the idiosyncratic Obama team. But even detractors say he had the skills to succeed: management chops, business connections and a handful of relationships on the Hill.
And his departure could create its own troubles.
In contrast to the manic Emanuel, Daley calmed down the West Wing on the management front, despite some chafing over his style. And despite grumbling from the private sector, the White House does view its relationships with the business community as better today than a year ago. Moreover, Daley played a key role in piecing together several important trade deals, among the administration's rare bipartisan triumphs last year.
Even with his drawbacks, he was one of the few old political hands left in the West Wing after the departures of Emanuel, David Axelrod and Robert Gibbs. Daley, who will co-chair Obama's reelection effort, had decades of experience in campaigns, including his stint as Al Gore's campaign chairman.
And even a weakened Daley provided an occasional dissonant voice — an important counterpoint within Obama's closed circle.
politico