Lebanon to hire Iranian Technicians for Oil Exploration, report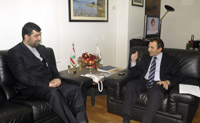 Lebanese Minister of Energy and Water Gibran Bassil voiced his country's willingness to boost cooperation with Iran in the energy sector, particularly oil exploration, Iran's Fars News Agency reported on Tuesday .
The issue was reportedly raised by Bassil during a meeting with Iran's Ambassador to Lebanon Qazanfar Roknabadi on Monday.
During the meeting, the two reportedly discussed different ways of expanding mutual cooperation in the energy sector and exports of Iran's technical and engineering services in oil, gas, water and electricity fields to Lebanon.
The Lebanese government, which is dominated by Hezbollah is reportedly trying to strengthen the relations with Iran.
Bassil represents MP Michel Aoun in the cabinet , a key ally of the Iranian and Syrian backed Hezbollah militant group.