West readies oil plan in case of Iran crisis, Reuters report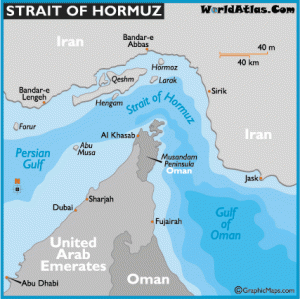 Western powers this week readied a contingency plan to tap a record volume from emergency stockpiles to replace nearly all the Gulf oil that would be lost if Iran blocks the Strait of Hormuz, industry sources and diplomats told Reuters.
They said senior executives of the International Energy Agency (IEA), which advises 28 oil consuming countries, discussed on Thursday an existing plan to release up to 14 million barrels per day (bpd) of government-owned oil stored in the United States, Europe, Japan and other importers.
Action on this scale would be more than five times the size of the biggest release in the agency's history — made in response to Iraq's 1990 invasion of Kuwait.
The maximum release, some 10 million bpd of crude and about 4 million bpd of refined products, could be sustained during the first month of any coordinated action, the plan says.
"This would form a necessary and sensible response to a closure of the strait," a European diplomat told Reuters. "It wouldn't take long to put in place if it was required … and would be unlikely to prove controversial amongst the (IEA) membership."
A spokesman for the IEA confirmed that the Paris-based agency has an existing contingency plan that outlines a maximum stock release capability of 14 million bpd for a month. "We're watching the situation carefully," he said of Iran.
Tehran announced plans on Friday for new military exercises in the world's most important oil shipping lane, through which some 16 million barrels of crude pass each day.
Iranian officials have threatened to block the strait if new sanctions, aimed to discourage Iran's nuclear programme, harm Tehran's oil exports.
Many oil experts believe the threats are rhetoric aimed at pushing up oil prices in a bid to avert sanctions.
"The IEA is monitoring the situation very closely, and is fairly concerned about it," the diplomat said, confirming that senior management discussed Iran at the meeting on Thursday.
Western governments are targeting Iranian oil supplies and the European Union is readying a ban on the country's crude oil exports of about 500,000 bpd with the goal of a final decision by month's end, while Washington has already imposed financial measures to discourage business with Tehran.
Industry sources said the IEA is unlikely to release stocks in the event of an EU embargo on Iran. While Europe will import less Iranian oil, Tehran will seek to sell larger volumes to its biggest customers in Asia.
However, Bob McNally, a former White House energy advisor and now head of consultancy Rapidan Group, says even a more modest disruption — if Iran were to shut in some of its own production due to sanctions pressure, for instance — may require action.
"Given low OPEC spare capacity, IEA stock releases may need to be considered if prolonged supply disruptions even smaller than the flow through Hormuz were to take place," he said.
U.S. congressman Edward Markey, the top Democrat on the House of Representatives' Natural Resources Committee, said he would support U.S. releasing its reserves, although he views the emergency stockpiles as only a short term solution to the nation's energy problems.
"America should always be willing to use our strategic oil reserves as a weapon against OPEC dictators, Wall Street speculators and any manipulators of the oil markets, and the recent saber rattling from Iran is no different," Markey told Reuters in a statement.
Also watching closely are oil giants Saudi Arabia, Kuwait and Iraq who depend on the strait to move most of their crude.
If the Gulf channel gets blocked, Saudi Arabia, the world's top exporter, can route more crude through the country's East-West pipeline system to the port of Yanbu on the Red Sea.
PIPELINES AVAILABLE
Altogether that network has effective capacity of some 4.5 million bpd and after supplying Saudi domestic refineries in Jeddah, Riyadh, Rabigh and Yanbu – there is about 3 million bpd of export capacity available, said an industry source.
The neighboring United Arab Emirates also has export flexibility. It is nearing completion of the Abu Dhabi crude oil pipeline, which will bypass the strait to ship as much as 1.5 million bpd to the Indian Ocean. Industry sources said the pipeline has been tested and the first flow of oil has already been pumped.
"It's now only a matter of switching on a button," one industry source said.
The IEA tapped emergency stocks in June to help supply refiners caught short by supply lost to Libya's civil war. It was a move that angered the Organization of the Petroleum Exporting Countries which felt the consumer group had overstepped its bounds.
Founded in 1974 in the wake of the Arab oil embargo, the IEA has only drawn down reserves on three occasions. Apart from last summer, member countries released oil in 2005 after Hurricane Katrina damaged offshore oil facilities in the Gulf of Mexico and made available 2.5 million bpd in January 1991 after Iraq's invasion of Kuwait disrupted about 4.3 million bpd.
Reuters