Serious dialogue officially launched with Hezbollah, Rai says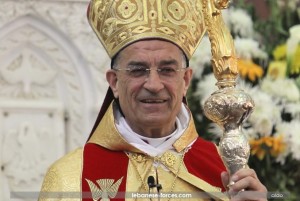 Maronite Patriarch Beshara al-Rai revealed on Monday that "serious dialogue has officially been launched with Hezbollah in order for all matters to be laid out in the open at the national dialogue."
Rai said on Monday that the possession of arms outside the state's authority is unacceptable, according to a report by Voice of Lebanon radio station.
He also told reporters: "The time when Hezbollah lays down its arms would be a great day."
"Let us be reasonable however and admit that most of our problems are external," he added without elaborating.
Addressing the government's performance so far, al-Rai remarked: "It has not properly functioned since its formation."
He warned that Lebanon is heading to an economic disaster if living conditions continue as they are
"Lebanon has a role to play in the region and it cannot remain occupied with its own affairs," he added
He stressed the importance of the resumption of the national dialogue in order to end the crisis.
In addition, he revealed that he had issued an invitation to United Nations Secretary General Ban Ki-moon to visit Bkirki during his upcoming trip to Lebanon.
Rai came under fire earlier in September from the opposition March 14 parties but won praise from March 8 politicians for his comments during his visit to France . "Syrian President Bashar al-Assad is open-minded and should be given more chances to implement the reforms" he announced.
He also indirectly defended Hezbollah's arms by linking the party's arsenal to the termination of Israeli occupation of Lebanese territory and the return of Palestinian refugees to their homeland .
"Only when the international community exerts pressure on Israel to vacate the occupied Lebanese territory ( the Shebaa Farms, Kfar Shouba hills and the Lebanese part of the disputed border village of Ghajar ) and Israel allows Palestinians in Lebanon to return to their homes, can Hezbollah be asked to hand over its arms because they will no longer be needed." He said during his visit.
The patriarch claimed after returning to Lebanon that the remarks he made while in Paris "were taken out of context and have nothing to do" with his personal opinion, but reiterated his controversial position on Syria and Hezbollah's arms during a meeting last October with President Michel Suleiman at the Baabda palace.