Jumblatt slams Lebanese officials who linked Arsal to Al-Qaeda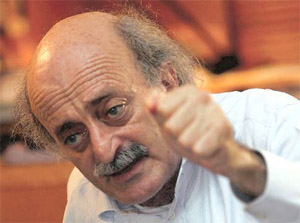 Progressive Socialist Party leader MP Walid Jumblatt on Monday slammed Lebanese officials who accused Lebanon's town of Arsal of harboring Al-Qaeda members by saying they did it to serve their own interests.
In his weekly editorial in the al-Anbaa magazine Jumblatt wrote: "The foolishness of those individuals did not take into account the sensitivity of the situation in the region when they said that al-Qaeda had entered the town of Arsal."
"They did not take into consideration the negative repercussions that their statements would have on the town," he added.
He said that the controversial issue of Al-Qaeda "cannot be resolved through the media" but by the relevant official authorities.
Jumblatt criticized the way "Al-Qaeda" has turned into a new term "exploited on a daily basis" by some Lebanese politicians to serve their own interests.
"The so-called term 'Al-Qaeda organization' has become available upon request. It can be pulled out from the drawer when needed."
Addressing the Syrian activists and their "peaceful pro-democracy uprising ", Jumblatt said: "I apologize for taking too long to join the rest of the people demanding Syria's freedom."
"I hope the crisis will end as soonest possible and that a new, free, and democratic Syria would emerge," Jumblatt concluded.
Ghosn
Defense Minister Fayez Ghosn who is reportedly closely associated with the Iranian and Syrian backed Hezbollah and MP Michel Aoun informed the Lebanese cabinet on December 22 that al-Qaeda members had infiltrated the town of Arsal.
President Bashar al-Assad's regime has blamed December 23 rd twin suicide bombing that killed 44 people on "terrorist organizations," including Al-Qaeda, and quoted Lebanese officials as warning Syria that Al-Qaeda members infiltrated into Syria from the town of Arsal.
Ghosn said last Tuesday in an interview on OTV in defense of his statements about al Qaeda that the army has "clear information" about the presence of al-Qaeda members in the Bekaa border town of Arsal, noting that "the army raided Arsal in search of Hamza al -Qarqouz," who is believed to be an al-Qaeda militant who had fled from Syria to Lebanon.
Ghosn added: "It is our duty as politicians and officials to announce that there is an infiltration by some extremists, including al-Qaeda members, through the borders, and it is our duty not to conceal things."
Ghosn's statements have generated domestic criticism, mostly from March 14 alliance which supports the Syrian uprising.
The Al-Qaeda militant that the Defense Minister referred to in his statements when he talked about the presence of Al Qaeda in the town of Arsal appeared on TV Sunday evening to tell his story.
In an interview with Future TV on Sunday Hamza al -Qarqouz who works as a laborer at a bakery in Arsal expressed regret that his name was raised by the Lebanese defense minister as the Al Qaeda militant from Arsal . Addressed the minister by saying: I am the age of your children ..What will your reaction be like if people told the same type of stories about your son as you told about me ?