Top Druze cleric denounces Damascus bombing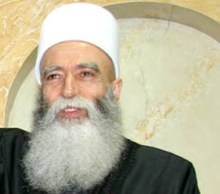 Druze spiritual leader Sheikh Al Akl Naim Hassan denounced the bombing that rocked Damascus on Friday. In a statement issued on Sunday he warned against "sowing chaos, destruction, tension and strife" in Syria.
Hassan also called on "all concerned in the Arab world, particularly in Syria, to reinforce national and Islamic unity, reject radicalism and fighting, embrace reform and democracy , and resolve the current Syrian crisis."
He also renounced the "waves of terrorist bombings striking Iraq," according to the statement.
Syria's government has blamed al-Qaeda for the suicide explosion that took place in the Damascus neighborhood of Al-Midan on Friday and which reportedly killed at least 25 people in another Friday of protests across the country.
The Syrian government also blamed al-Qaeda for the twin bombings that took place in damascus exactly two weeks ago.
But Free Syrian army, colonel Riyadh al-Asaad and the Syrian Local Coordination Committees accused the Syrian regime of president Bashar al Assad of staging the bombings .
According to reports coming from Damascus, the Syrian government was well prepared for the incident had cameras, ambulances and reporters at the scene of the explosion when it occurred to prove to the world that terrorists were behind the blast .
The United Nations estimates more than 5,000 people in Syria have been killed in the crackdown since March.