Syria warns Turkey, Lebanon against supporting the opposition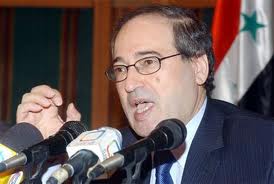 Syrian Deputy Foreign Minister Faisal al-Maqdad has warned Turkey against supporting what he called "armed terror groups" operating across the border, saying the terror might turn against Turkey one day as well.
Recalling Friday's suicide attack that took the lives of 26 people in central Damascus, the Syrian official said: "These terror incidents showed that those who claim to oppose terror are liars. These countries should wake up. Terror might strike back at them one day." Asked to clarify what countries he meant, al-Maqdad identified Turkey and Lebanon, two neighbors of Syria, as countries that support armed resistance groups against the al-Assad regime. "I've not received condolences from Turkey for these terrorist attacks" he added. Al-Maqdad warned that "we want them [Turkey and Lebanon] to stop supporting and supplying arms to these groups."
The Syrian deputy foreign minister ruled out supporting the outlawed Kurdistan Workers' Party (PKK) terrorist group in reprisal against Turkey. "Syria will never be in a position to harm the Turkish people," he vowed, adding that his government will not do anything to threaten the national security and territorial integrity of neighboring Turkey.
Al-Maqdad also said that his government has decided not to respond to harsh remarks from Turkish officials that are intended to interfere with Syria. "We reject comments from members of the Turkish government that amount to an overt interference in Syria," he said, stressing that comments like these are not in the interest of either country. "We know the reasons why the Turkish government has changed its policies regarding Syria. But we will not announce these publicly in order to preserve political ties," he claimed, stressing that the Turkish government has been impacted by what he called a "media smear campaign against Syria."
The Syrian deputy foreign minister argued that Syrian refugees taking shelter in Turkey to escape the violent government crackdown are being used as a "propaganda tool." "What they [the West] tried to do is replicate the Libyan scenario for Syria. They wanted to give armed groups 'refugee status' in order to achieve their political goals," he explained. Al-Maqdad announced that the Syrian government wants these refugees to return to their home country and promised they will not be punished upon their return. He also claimed that the Turkish government rejected calls to cooperate with international organizations to safely return these refugees. "The Syrian government is ready to bear all costs to repatriate them and reintegrate them into Syrian society," he said.
Al-Maqdad acknowledged to Today's Zaman that the Bashar al-Assad government made some mistakes during the 10 months of unrest in Syria. "We are not angels. There were some mistakes," he admitted. Al-Maqdad added that Syria wanted to implement reforms for the benefit of the Syrian people. "We expect support from other countries for the reform package plan submitted by President Assad," said Al-Maqdad. He stressed that Syria will become a full-fledged democratic country once these reforms are implemented. With reforms, he argued, the Syrian constitution will become representative of demands from all groups, and the elected regime will be transformed into a multiparty system. "This process will lead us to the birth of a free and transparent media," Al-Maqdad pledged.
The deputy foreign minister emphasized that all the requirements for a democratic process will be fulfilled in Syria; he said the parliamentary elections to be held next month will determine who will lead Syria in the future. He blamed the reform delays on developments in the Middle East region, listing events such as the American occupation of Iraq, Lebanese Prime Minister Hariri's assassination and Israeli violence in Lebanon and Gaza as hindrances to reform in Syria.
todayszaman