Communication between Syria, Jumblatt 'frozen', says Aridi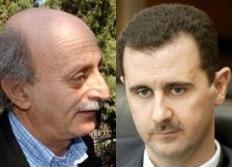 Minister of Transportation and Public Works Ghazi Aridi told Al-Sharq radio station on Saturday that communication between the leader of the Progressive Socialist Party (PSP) MP Walid Jumblatt and Syria is currently "frozen."
However, Aridi, who is a PSP member , said that communications between Syria's strongest ally in Lebanon, the Hezbollah militant Shiite group , and the PSP "are ongoing".
During an interview with Lebanon's NBN television station on Friday , Syrian Foreign Affairs Ministry spokesman Jihad al-Makdisi dismissed Jumblatt's recent comments that regime change was needed in Syria to end the country's crisis.
"His comments are much appreciated and are his personal [views]. We wish him all the best in resolving all the Lebanese issues and once these have been sorted out, he can then move to the Syria situation," Makdisi said
Makdisi's comments come after Jumblatt called on Russia and Iran to convince their Syrian ally that a fundamental change in the regime was the only solution to the current unrest there, now in its 10th month.
Jumblatt also urged fellow Druze in Syria not to join the Syrian army and police in the brutal crackdown on protesters.
Over 6200 Syrians, mostly civilians, have been killed in a crackdown by Damascus to end months of anti-government protests, according to Human Rights organizations