Syria blames al-Qaeda for Damascus suicide bombing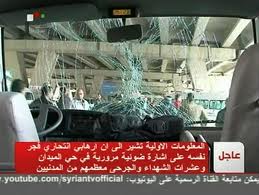 Syria's government has blamed al-Qaeda for the suicide explosion that took place in the Damascus neighborhood of Al-Midan on Friday and which reportedly killed at least 25 people in another Friday of protests across the country.
Government officials and media said the unidentified bomber detonated an explosive belt next to buses carrying policemen in Midan, in the south of the capital, just before the weekly anti-regime demonstrations were expected in the area.
The Syrian government also blamed al-Qaeda for the twin bombings that took place in damascus exactly two weeks ago.
But Free Syrian army, colonel Riyadh al-Asaad and the Syrian Local Coordination Committees accused the Syrian regime of president Bashar al Assad of being behind the explosion.
According to reports coming from Damascus, the Syrian government was well prepared for the incident had cameras, ambulances and reporters at the scene of the explosion when it occurred to prove to the world that terrorists were behind the blast .
Arsal
Defense Minister Fayez Ghosn who is reportedly closely associated with the Iranian and Syrian backed Hezbollah and MP Michel Aoun informed the Lebanese cabinet on December 22 that al-Qaeda members had infiltrated the Bekaa town of Arsal near the borders with Syria.
President Assad's regime which blamed the December 23 rd twin suicide bombing on Al-Qaeda quoted Lebanese officials as warning Syria that Al-Qaeda members infiltrated into Syria from the town of Arsal.
But Interior Minister Marwan Charbel reiterated last Saturday that "there is no organization called Al-Qaeda in Lebanon." However, he added that there "are people who have been sympathizing with the organization since 2003 following the US occupation of Iraq and after the establishment of fundamentalist movements in Afghanistan and Yemen where Al-Qaeda is present."
"Al-Qaeda is not present in Lebanon; otherwise the security forces would have uncovered its members ," Charbel told MTV last Saturday