Beirut to host U.N. conference on democracy in the Arab world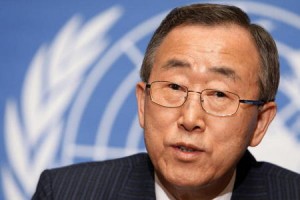 Lebanon will host this month a U.N. conference on democracy in the Arab world, with a slew of high-level dignitaries, including U.N. chief Ban Ki-moon, due to attend, organizers and Lebanese officials said Tuesday.
The two-day conference entitled "Reform and Transitions to Democracy" will be held January 15 and 16. It is organized by the United Nations Economic and Social Commission for Western Asia (ESCWA).
Some 50 high-level Arab and international policymakers, academics and development experts have been invited to the meet but the list of those attending has not been finalized, organizers said.
"The aim of this meeting is to provide decisions-makers in emerging democracies in Arab countries with an opportunity to interact with leaders who encountered similar challenges during their countries' transitions to democracy," according to an outline of the conference obtained by AFP.
Officials from Poland, Argentina, Sierra Leone, Uruguay and other countries have been invited to speak.
Some of the themes that will be addressed will be how countries that have been part of the so-called Arab Spring can transition from autocracy to democracy, how to strengthen democratic institutions and how to reintegrate former combatants into society.
The U.N. chief, who will be visiting Lebanon next week to meet with officials and members of the U.N. peacekeeping force in southern Lebanon (UNIFIL), will be among the keynote speakers at the conference.
Al Arabiya
Photo: U.N. chief Ban Ki-moon. According to An Nahar newspaper he will raise the issue of the demarcation of the Lebanese borders with Syria during his visit as outlined in UN resolution 1680. The UN is reportedly planning on issuing a resolution on Syria and the UN chief may be interested in finding out during his visit whether Lebanon will participate in a UN sponsored monitoring team that will be sent to the embattled country following the approval of the resolution.