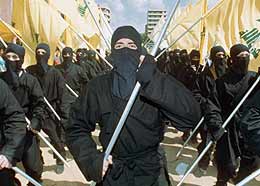 Al-Jamaa al-Islamiya Secretary General in Lebanon Sheikh Ibrahim al-Masri expressed hope on Tuesday evening that Hezbollah, one of Syria's key allies in Lebanon, "would rethink its stance on [Syrian events]."
"It is not suitable for an Islamic resistance movement not to stand with the people," Masri said during an interview with Future News.
He added that his group's relations with Hezbollah "is old and ongoing; but each has its own point of view."
"We hoped that [Hezbollah] would aim its arms at Israel and not [at local parties]," Masri said in reference to the May 2008 Events, when gunmen led by Hezbollah occupied the western part of Beirut and tried but failed to occupy Mt Lebanon
Masri also said that his group considers that Lebanese and Syrians "are one people living in two countries."
He added that Al-Jamaa al-Islamiya supports "the just demands of the Syrian people."
"We don't hope for the [current] Syrian situation to remain as is; otherwise it will lead to civil war." He stressed
Masri said that "it is true that Syria supported the Islamic resistance in Lebanon and [the Palestinian territories]; but the Syrian people have demands [that need to be addressed and not ignored]."
23 were killed Tuesday by the security forces of Syrian president Bashar al Assad according to Human rights groups. Over 6200 pro-democracy protesters have been killed since the revolt started last March
This error message is only visible to WordPress admins
Error: No connected account.
Please go to the Instagram Feed settings page to connect an account.