Israel to build a wall along border with Lebanon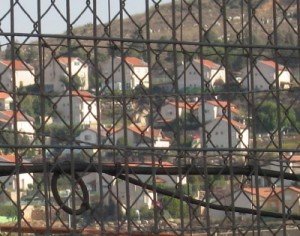 Israeli military officials plan to build a new wall on the country's northern ceasefire line with Lebanon, Israeli media reported on Monday.
An official in Israel's northern command told Hebrew daily Yedioth Ahronoth that the 5-meter high (16′ 5″) and 1-kilometer (.63 miles) long wall will be equipped with alarms and separate Israeli kibbutz al-Matala and Lebanese village Kafr Kala which lie near to each other.
The wall, the first of its kind along the frontier with Lebanon, will be planned in the coming days and building will start in a few weeks, the newspaper said.
Israel's army has requested the UN peacekeeping force stationed in the ceasefire zone to coordinate with Lebanon in order to prevent clashes.
The border between Israel and Lebanon is disputed by the two sides and the UN-drawn "Blue Line" covers just part of the stretch, established in 2000 to determine whether Israel had withdrawn from Lebanon after its 1982 invasion.
Ma'an
Photo: Israel through the fence near Fatima's Gate in south Lebanon