Syria's rebel forces capture dozens of Assad troops in north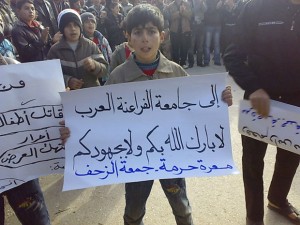 Armed Syrian rebels captured dozens of members of the security forces by seizing two military checkpoints on Monday, the opposition said, even as the Arab League chief reported cautious progress in a peace monitoring mission.
The opposition said army deserters also clashed with security forces at a third checkpoint, killing and wounding an unspecified number of troops loyal to President Bashar al-Assad.
Assad is struggling to defeat a popular uprising and avoid becoming the latest president to be toppled by "Arab Spring" revolutions, after the leaders of Tunisia, Egypt, Libya and Yemen.
After nearly 10 months of violence in which the United Nations says more than 5,000 people have been killed, an Arab monitoring mission has spent the past week assessing Assad's compliance with a peace plan.
In partially upbeat comments, Arab League Secretary General Nabil Elaraby said Syria's military had withdrawn from residential areas and was on the outskirts of the country's cities, but gunfire continued and snipers were still a threat.
"The latest telephone report said there is gunfire from different places, which makes it hard to say who is shooting who," said Elaraby. "Gunfire should be stopped and there are snipers."
"We call upon the Syrian government to fully commit to what it promised," he said in Cairo.
The Arab League plan calls for Assad to withdraw troops and tanks from the streets, release detainees and talk to his opponents.
Elaraby said the monitors had achieved the release of 3,484 prisoners and succeeded in getting food supplies into Homs, one of the centers of the violence. "Give the monitoring mission the chance to prove its presence on the ground," he said.
But many Syrian opposition activists are skeptical that the mission can put real pressure on Assad to halt the violence.
NORTHERN CLASHES
The reported attacks on military checkpoints came three days after the anti-government Free Syrian Army said it had ordered its fighters to stop offensive operations pending a meeting with the Arab League delegates.
Rami Abdelrahman, director of the opposition Syrian Observatory for Human Rights, said Monday's operation took place in the northern province of Idlib. It was not immediately clear how many people had been killed or captured by the rebels.
Separately, the Observatory said two people were killed by gunfire in Homs on Monday, and the bodies of another two were handed over to their families. Security forces killed a farmer in Douma, on the northeastern edge of Damascus, as they carried out raids searching for suspects wanted by authorities, it said.
Kinan Shami, a member of the Syrian Revolution Coordinating Union activists group, said from Damascus that people were taking huge risks by gathering in cities where Arab League monitors were expected, in the hope of talking to them.
"People expected them in Daraya yesterday on New Year's day and thousands went to the main square, raised the Independence Flag on a mast and gathered around it. Security forces shot at them and killed two protesters," Shami said.
"The people are trying to show the monitors the repression and are risking their lives to meet them because everywhere they go the monitors are surrounded by security… Other than getting arrested and beaten or killed, they could easily face endless counts of treason and communicating with foreign powers."
But Issam Ishak, a high-level member of the main opposition Syrian National Council, said the monitors must be given a chance. "Their presence is helping further erode the fear factor and is encouraging the expansion of the protests."
The Syrian government bars most international journalists from operating in the country, making it difficult to verify accounts of incidents. Assad blames the unrest on foreign-backed armed Islamists who officials say have killed 2,000 security personnel.
State news agency SANA said a worker at a school in the city of Hama was killed by armed men who captured her three days ago after her husband, who worked at the same school, refused their demands that he leave his job.
SANA also said a journalist working for state radio died on Monday from wounds sustained when gunmen shot him several days ago in Daraya, in Damascus province.
National post
Photo: Demonstrators hold posters that read, "To the Pharaohs of Arab League, no blessing on you and your efforts", during a demonstration against Syria's President Bashar al-Assad in Marrat Hrama December 30, 2011