Geagea predicts the fall of Assad regime in 2012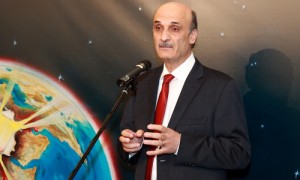 Lebanese Forces leader Samir Geagea predicted on Saturday the collapse of President Bashar Assad's regime in 2012 and the start of building the Lebanese state
During a gathering of his party's general committee in Meerab he said :
"Following the fall of the Syrian regime, we will enter a well defined political process of building relations between Lebanon and Syria as two independent and sovereign states and end Syrian interference in this country."
"The year 2012 will witness the fall of the Syrian regime. This will have a significant impact on Lebanon's situation and will result in a new balance of power formula ," Geagea added
He also said that the fate of the Lebanese prisoners in Syrian jails will be revealed once the Syrian regime is overthrown.
Geagea condemned the killing of the three Lebanese nationals by Syrian gunfire in the region of Wadi Khaled last week, lamenting the Lebanese government's lack of position on the matter.
"This government has nothing to do with anything and it has nothing to do with Lebanon," he said
"It should have very clearly condemned the incident, launched investigations, and demanded immediate clarifications from the Syrian government," he stressed
Commenting on allegations that al-Qaeda members had infiltrated Lebanon, he said: "This is the first time that ministers are determined to tarnish the image of their country."
"Are they making such statements so that we go and combat the extremists? This is their job," he stressed
Measures should be taken against the ministers who made the allegations, he stressed
Last week, Lebanon's Defense Minister Fayez Ghosn warned of the presence of Al-Qaeda cells in Arsal, near the Syrian border.
Ghosn who is reportedly closely associated with the Iranian and Syrian backed Hezbollah and MP Michel Aoun informed the Lebanese cabinet last Thursday that al-Qaeda members had infiltrated the Bekaa town of Arsal.
President Bashar al-Assad's regime has blamed Friday's twin suicide bombing on "terrorist organizations," including Al-Qaeda, and quoted Lebanese officials as warning Syria that Al-Qaeda members infiltrated into Syria from the town of Arsal.
On saturday Interior Minister Marwan Charbel reiterated that "there is no organization called Al-Qaeda in Lebanon." However, he added that there "are people who have been sympathizing with the organization since 2003 following the US occupation of Iraq and after the establishment of fundamentalist movements in Afghanistan and Yemen where Al-Qaeda is present."
"Al-Qaeda is not present in Lebanon; otherwise the security forces would have uncovered its members ," Charbel told MTV on Saturday