Kaslik explosion caused by gas leak, report
Interior Minister Marwan Charbel confirmed on Saturday during an interview with MTV that the explosion in Kaslik, just north of Beirut was the result of a gas leak.
An explosion ripped through the Senses health club and spa in Kaslik on Saturday, causing material damage only, the head of the Internal Security Forces in Mount Lebanon, Brig. Gen. Joseph Dwaihi said.
The investigation carried out by forensic teams and explosives experts at the seafront resort found that the incident was not caused by sabotage , National News Agency quoted Dwaihi as saying.
"We would like to clarify this to all the citizens and take the opportunity to remind them that as security forces we are keen on preserving the security of the people under instructions from Interior Minister Marwan Charbel," he said.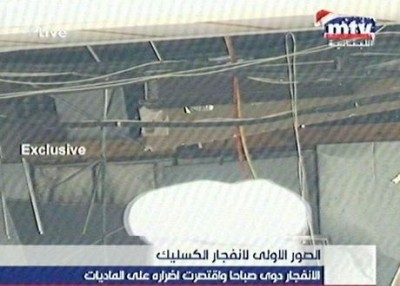 Voice of Lebanon reported earlier that the explosion resulted from a bomb placed in the facility due to a personal dispute between the owner of the club, Wassim Zhgeib, and the investor whom it identified as Nadim Dwaihi.
TV footage showed shattered glass at the entrance of the club. Part of the ceiling near the entrance was also damaged.
No Al-Qaeda
Charbel also reiterated that "there is no organization called Al-Qaeda in Lebanon." However, he added that there "are people who have been sympathizing with the organization since 2003 following the US occupation of Iraq and after the establishment of fundamentalist movements in Afghanistan and Yemen where Al-Qaeda is present."
"Al-Qaeda is not present in Lebanon; otherwise the security forces would have [uncovered its members]," Charbel told MTV.
Last week, Lebanon's Defense Minister Fayez Ghosn warned of the presence of Al-Qaeda cells in Aarsal, near the Syrian border.
Ghosn who is reportedly closely associated with the Iranian and Syrian backed Hezbollah and MP Michel Aoun informed the Lebanese cabinet last Thursday that al-Qaeda members had infiltrated the Bekaa town of Arsal.
President Bashar al-Assad's regime has blamed Friday's twin suicide bombing on "terrorist organizations," including Al-Qaeda, and quoted Lebanese officials as warning Syria that Al-Qaeda members infiltrated into Syria from the town of Arsal.