PSP slams Israel over measures taken against the Druze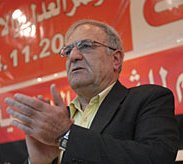 Progressive Socialist Party which is led by MP Walid Jumblatt condemned on Thursday Israel's "unfair measures taken against Knesset member Said Nafaa and 16 Druze religious clerics due to visits they made to Syria and Lebanon."
PSP's statements come after Israeli prosecutors indicted Nafaa on charges of visiting an "enemy country and meeting foreign agents". Nafaa visited Syria and Lebanon and met with the leader of the Popular Front for the Liberation of Palestine and the Druze community in Jabal Arab( Syria) and Lebanon.
Nafaa told Israel Radio last Monday thathe would fight the charges. Nafaa, a member of the Druze community and the Balad Party, called the indictment a "witch hunt."
If convicted, he could face up to 20 years in prison. It was not clear whether Nafaa is protected by parliamentary immunity.
Former Balad Party leader Azmi Bishara who faced similar charges left Israel in 2007 and never returned. He was accused of providing intelligence to Lebanon's Hezbollah militants during the 2006 war.
Bishara a Palestinian intellectual, academic, politician, and writer currently is the general director of the Arab Center for Research and Policy Studies (Doha Institute) and resides in Qatar
Balad party
Balad is a political party, whose stated purpose is the 'struggle to transform the state of Israel into a democracy for all its citizens, irrespective of national or ethnic identity. It opposes the idea of Israel as a solely Jewish state.
Balad also advocates that the state of Israel should recognize Palestinian Arabs as a national minority, entitled to all rights that come with that status including autonomy in education, culture and media. Since the party's formation, it has objected to every proposed state budget on the grounds that they have discriminated against the Arab population.
The party supports creation of two states based on pre-1967 borders, with the West Bank, Gaza Strip, and East Jerusalem to constitute a Palestinian state and the implementation of UN Resolution 194 regarding the right of return to Palestinian refugees.