Hamadeh calls on government to protect Arsal residents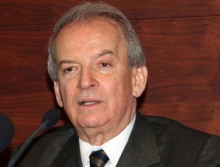 March 14 MP Marwan Hamadeh slammed on Friday the statements made by the Lebanese Defense Minister and accused him of exposing the Arsal town to the threat of Syrian army's aggression."
"The irresponsible statements of Defense Minister Fayez Ghosn's expose Arsal to the threat of the Syrian army's aggression," he said.
Hamadeh called on President Michel Suleiman and Prime Minister Najib Mikati to "provide safety for the residents of Arsal… otherwise, international forces or international observers must be asked to guard the border with Syria."
During an interview with Al-Jumhuriya newspaper published Friday Hamadeh said "the Lebanese citizens feel that they have to protect themselves and forget that there is a state in Lebanon to take care of them."
He added that "the fate of the residents of Arsal is no different than those of other towns in Lebanon."
Ghosn who is reportedly closely associated with the Iranian and syrian backed Hezbollah and MP Michel Aoun informed the Lebanese cabinet last Thursday that al-Qaeda members had infiltrated the Bekaa town of Arsal.
President Bashar al-Assad's regime has blamed Friday's twin suicide bombing on "terrorist organizations," including Al-Qaeda, and quoted Lebanese officials as warning Syria that Al-Qaeda members infiltrated into Syria from the town of Arsal.
Syrian troops have regularly staged incursions into Lebanon in recent months, killing several people.
Three Lebanese men were shot and killed Tuesday evening by gunfire from the Syrian side of the border with north Lebanon, National News Agency reported.
Syrian troops on October 6 shot and killed a farmer near the Bekaa town of Aarsal.
In September, heavy gunshots were fired from Syria towards villages in the northern region of Akkar, creating a state of panic among the residents in the area.
Also in September and on the Lebanon's northern border a Lebanese army patrol was fired at by the Syrian army.
In May, one woman was killed and several other people were wounded when gunshots were fired from Syria towards the town of al-Buqaia in the North.
Lebanon and Syria share a 330-kilometer border but have yet to agree on official demarcation.