US warships cross Strait of Hormuz despite Iran threats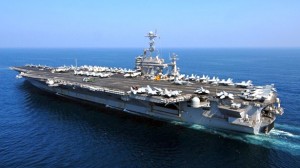 Two American warships have crossed through the Strait of Hormuz without incident despite Iranian threats to close the strategic oil route, the US Navy said Thursday.
The aircraft carrier USS John C. Stennis and the guided-missile cruiser USS Mobile Bay "conducted a pre-planned, routine transit through the Strait of Hormuz" on Tuesday, said Fifth Fleet spokeswoman Lieutenant Rebecca Rebarich.
The US military reported no friction with Iran's naval forces after Iranian leaders warned of possibly shutting down the vital strait if the West went ahead with more punitive sanctions over its suspect nuclear program.
"Our interaction with the regular Iranian Navy continues to be within the standards of maritime practice, well-known, routine and professional," Rebarich said in an email from Fifth Fleet headquarters in Bahrain.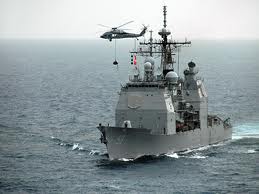 The US warships paid a visit to the port of Jebel Ali in the United Arab Emirates before traveling through the strait to the Arabian Sea, where the vessels will provide air power for NATO-led forces in Afghanistan, she said.
In response to Tehran's threats, the US military said Wednesday that any attempt to disrupt shipping in the Strait of Hormuz would not be tolerated.
The US aircraft carrier and cruiser made their through the narrow channel as Iran's navy was carrying out war games to the east of the Strait of Hormuz in a show of military might.
Iran's navy commander, Admiral Habibollah Sayari, said the aircraft carrier was monitored as it passed through the strait to the Gulf of Oman, according to Iranian state television.
The strait is a choke point at the entrance to the Gulf through which more than a third of the world's tanker-borne oil passes.
Although Iran could lay mines to disrupt shipping through the narrow channel, Tehran relies on the route for its own oil exports and analysts say the Islamic republic is unlikely to take such drastic steps.
AFP