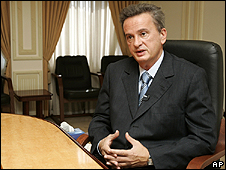 Central Bank Governor Riad Salameh told OTV on Tuesday that the cabinet's latest decision to raise the minimum wage would raise inflation in Lebanon.
Commenting on whether the new wages will negatively affect the exchange rate of the Lebanese lira he said the exchange rate (of the Lebanese lira) is to fixed to the US dollar according to the Central Bank's policy.
The cabinet voted on Wednesday to increase the minimum monthly wage from 500,000 LL to 868, 000 LL or about 74 %. The increase was based on a proposal presented by Minister of Labor Charbel Nahhas who represents the Free and Patriotic Movement (FPM) in the cabinet
Lebanon Information Minister Walid Daouq said following the cabinet meeting last Wednesday that the ministers also agreed to increase the daily minimum wage to 33,000 LL and introduce a minimum monthly transportation allowance of 268,000 LL.
Daouq also said that salaries less than LL1.5 million will be increased by 18 percent while salaries between LL1.5 million and LL2.5 million will be increased by 10 percent. Wages above LL2.5 million will receive a lump sum increase of LL370,000
The new wages are retroactive to December 1, 2011.
The current exchange rate of the Lebanese Lira 1500 LL to one US Dollar
Many analysts fear that the new wage increase would be quickly offset by inflation.
This error message is only visible to WordPress admins
Error: No connected account.
Please go to the Instagram Feed settings page to connect an account.