Mikati: No solid evidence of Qaida cells presence in Arsal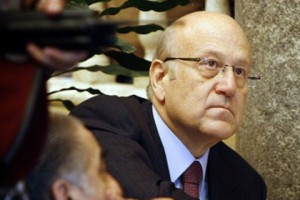 Lebanese Prime Minister Najib Mikati said on Wednesday there is "no solid evidence" that proves the presence of Al-Qaeda terrorist cells in Lebanon.
"Talking about Al-Qaeda presence in the town of Arsal does not mean that it is a reality," Mikati told reporters, a few days after Defense Minister Fayez Ghosn warned of the existence of such groups.
"We did not receive information of having such organizations," Mikati said and added "Such a critical issue should not be addressed in a manner that may harm Lebanon."
The security authorities that have been charged to verify Ghosn's allegations will provide the Lebanese with the truth in the matter, Mikati said
"The army is doing its utmost in protecting the border with Syria," he stressed
Asked to comment about the difference in position between the defense minister and Interior Minister Marwan Charbel on the al-Qaida allegations, he said: "This is not the first time that differences in opinion have been made."
"This is best evidence that the government is not one-sided as some sides had repeatedly asserted," Mikati said
Asked to comment about Beirut MPs' demands for the establishment of an arms-free Beirut, the prime minister said: "This issue requires a military mechanism and political consensus in order to be implemented."
"The government alone is not capable of achieving this goal," he stressed.
Ghosn who is reportedly closely associated with Hezbollah and MP Michel Aoun informed the Lebanese cabinet last Thursday that al-Qaeda members had infiltrated the Bekaa town of Arsal.
President Bashar al-Assad's regime has blamed Friday's twin suicide bombing on "terrorist organizations," including Al-Qaeda, and quoted Lebanese officials as warning Syria that Al-Qaeda members infiltrated into Syria from the town of Arsal.