Explosion rocks a Restaurant in Tyre for serving alcohol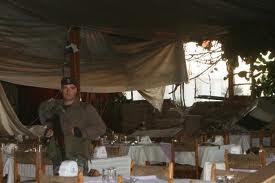 An explosion Wednesday rocked the southern port city of Tyre, causing only material damage and no casualties, Lebanese police said.
A two-kilogram bomb made of TNT went off near the seaside Tyros restaurant, which serves liquor, the police said.
On November 16, a similar blast took place near the Queen Elissa Hotel. There were no victims in that attack and no one has claimed responsibility.
Alcohol is not banned in Lebanon, but in areas under the control of the Lebanese Shiite movement Hezbollah and extremist radical Sunni movements liquor is not allowed.
New Year's Eve parties
Voice of Lebanon radio station (93.3) said that the attack was aimed at forcing restaurants in the city at cancelling New Year's Eve parties.
Tyros' owner, Zuhair Arnaout, told LBC TV that a banner advertising the New Year celebrations that he would hold on the weekend was torn off on Tuesday.
He said security forces launched an investigation but the explosion took place the next day.
Arnaout insisted that he will fix the damage, go ahead with the celebrations and serve alcohol.
M&C, Agencies