Gemayel urges adoption of Patriarch Rai's stance on Arms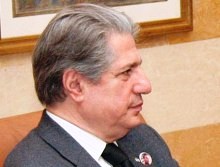 Former Lebanese president and current Phalange Party leader Amin Gemayel voiced hope on Monday during an interview on MTV that the statements made by Maronite Patriarch Bechara Boutros al-Rai on non-state ( Hezbollah's) weapons during his Christmas mass "will be adopted by the government."
Gemayel stressed that statements are "in line with the principles Bkirki has endorsed since the year 2000 concerning the need to strengthen Lebanon's sovereignty."
Sovereignty "can only be achieved if power is in the hand of the state," Gemayel said in an interview on MTV.
"The state is obligated to guarantee the people's safety, gather all arms, and limit security duties to the state, which will therefore ensure an arms-free Beirut and arms-free Lebanon." The Maronite Patriarch said on Sunday .
"The state should assign all security and defense duties to the political authorities." Rai stressed
Rai's statements come after Beirut MPs demanded on Monday that Beirut be stripped of all armed groups in order to avert armed clashes that had erupted in the capital in recent years,
Rai also said that the judicial authority should act independently and away from external meddling.
"We look forward to justice that can be exacted by brave and honest judges," said the patriarch.
"No one can obstruct justice or politicize it," the patriarch stressed
The mass was attended by several Christian leaders including President Michel Suleiman, former president and current Phalange Party leader Amin Gemayel, Free Patriotic Movement leader MP Michel Aoun, and several other officials.